Last Updated on 18th August 2011
We love Andre Pejic for his feminine aesthetic and fierce determination. Subtly swathed in masculine form but with deceptively delicate looks, Pejic is a rare breed of model and the much loved catwalk darling of Jean Paul Gaultier.
But it's a sad situation when you've appeared in French Vogue and boast the Male Model of the Year accolade to your name; and still have to fight back against cruel controversy. In an industry where otherworldly and odd is celebrated, it is this – Pejic's unique selling point – that has come to be his nemesis. Well not according to him, though.
Raised Down Under, the 19-year-old Bosnian model frankly admits to not getting out of bed for 'less than $50 a day' and leaving his 'gender open to artistic interpretation.' He began experimenting at a young age, dressing up as a girl, and was scouted when a booker spotted him in McDonald's. Although some may claim his feminine looks may be his downfall in terms of career longevity, I salute his financially advantageous gender duality.
Pejic has walked the catwalk for both womenswear and menswear – doubling his chance of landing work – and racking up immense global attention from fashion houses and industry heavyweights. And this attention couldn't be more apparent than in autumn/winter 2011's androgyny-inspired offerings.
Designers strived to make their female models look like boys this season, with The Row, Nicole Farhi and Dolce & Gabbana on a pursuit to achieve tailored, masculine perfection, tempered with feminine accents – a bit like Pejic.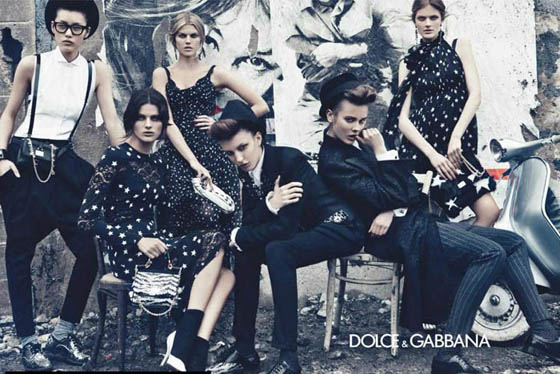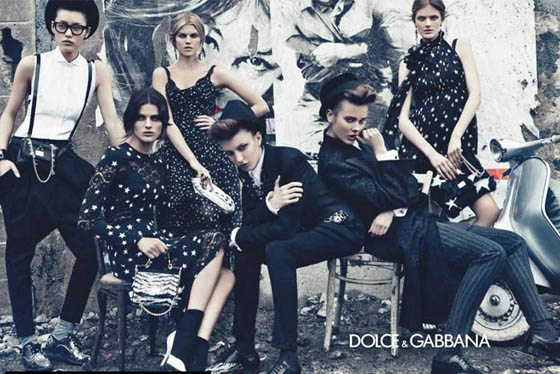 I was particularly bowled over by Dolce & Gabbana's cross-gender effort for their fall/winter 2011-2012 campaign images and the models borrowing from Patti Smith at Paul Smith – teetering perfectly on boy meets girl.
It seems Andre Pejic's welcome reign as king and queen may just last a little bit longer.