Last Updated on 19th October 2013
After the green-eyed monster got the better of us whilst pouring over pictures of super-bod celebrities at sunny Coachella, kitted out in the hottest festival garb and making merry to the sounds of Swedish House Mafia and a hologram of Tupac, we've now got to consider preparing for our own modestly sunny versions.
That's right, its festival season, and we're not about to let the dipping barometer bring crashing down our hopes of an amazing, and possibly sun-soaked festival experience!
Alongside the festival essentials (no, not alcohol or insomnia) you've got to pack a head-turning-yet-practical wardrobe. And that's where we can help, because we've geared up the best of festival fashion necessities, come rain or shine – the latter, we hope!
Whether you're Latitude lass, most likely to be raving your way through the crowds at Lovebox Weekender or a hardcore Isle of Wight festival faithful, or, maybe you're heading further afield and showingBarcelonahow it's done at Sonar, or probably eccentrically dancing with the festival goers at Exitfest inSerbia– we've got it covered.
Opt for a water-resistant, quirky, printed parka to stylishly keep dry, or, maybe a denim waistcoat for sunnier climes. A fringed edge on everything is law at festivals, as are fashion-forward Wellington boots. As for handbag hoarders, leave the Hermès at home and stick with an Aztec printed rucksack!
Take inspiration from our top picks below and start ticking off your festival fashion checklist!
Check out the headline-making festivals taking place in 2012, here.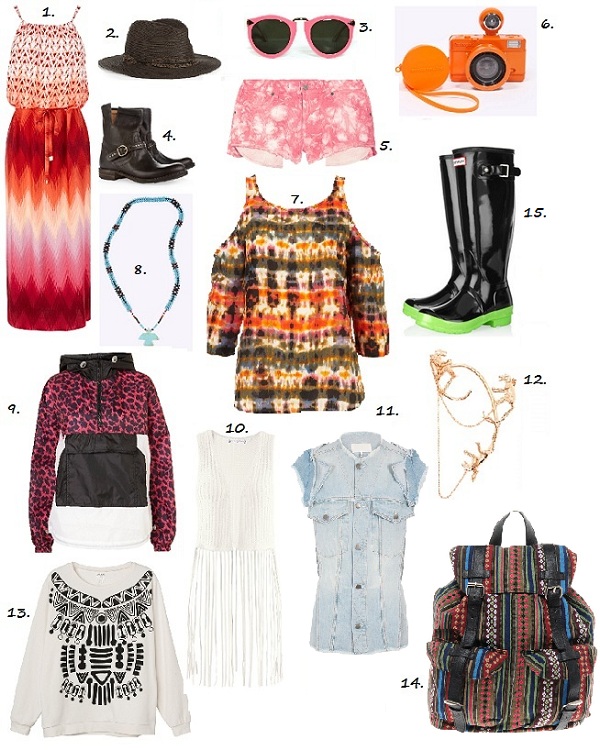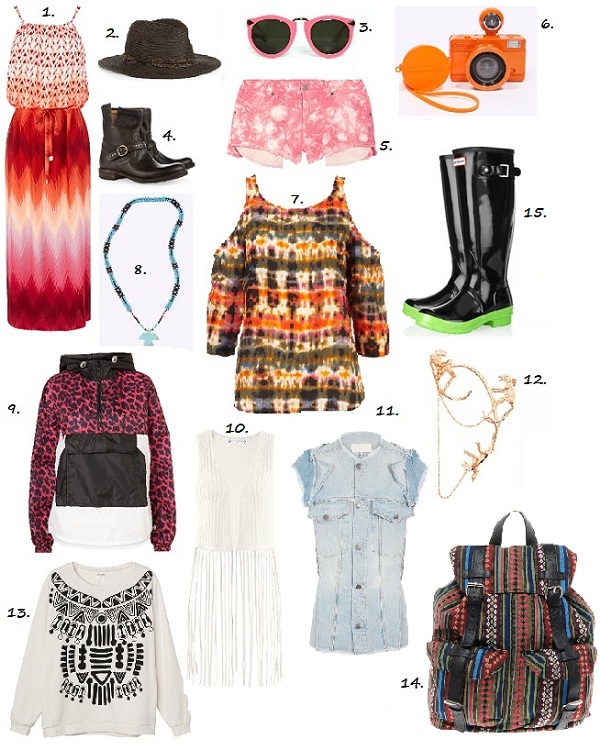 1. Halter dress, £48, Warehouse
2.Eugenia Kim Kurt hat, £176.65, shopbop
3.Karen Walker Harvest sunglasses, £179.86, shopbop
4.Fiorentini and Baker Elis Eternity studded leather boots, £295, net-a-porter
5. Textile Elizabeth and James Dixon printed denim cut-off shorts, £130, net-a-porter
6.Lomography Fisheye 2 Orange Camera, £80, Urban Outfitters
7. Tie dye cut our shoulder top, £36, Topshop
8. Seed Beaded Eagle Necklace, £24, Urban Outfitters
9. Animal print Pac-A-Parka, £30, Topshop
10. Fringed waistcoat, £19.99, H&M
11. Maison Martin Margiela denim waistcoat, £595, Browns
12. Typhoon Palace Monkey Ear Cuff, £198, Oxygen Boutique
13. Elke sweat, £28, Monki
14. Aztec backpack, £30, Asos
15. Hunter original tall neon-soled Wellington boots, £85, net-a-porter