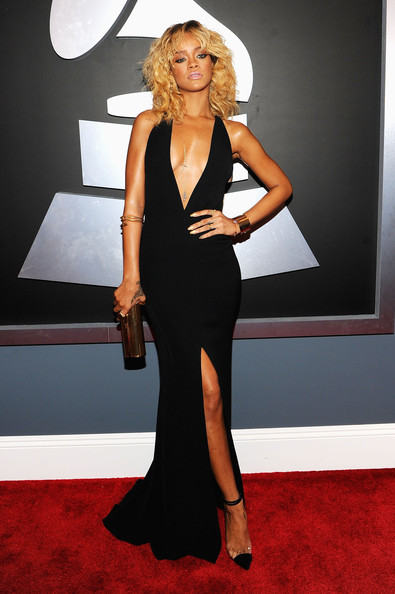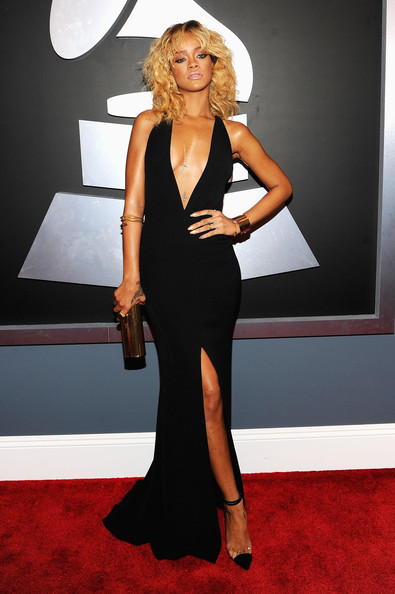 Bad news for likes of Rihanna, Nicki Minaj and Lady Gaga, as CBS has implemented a pretty strict dress-code for the 55th Grammy Awards this Sunday.
Ri Ri, who is fond of flashing the flesh on the red carpet (as well as the stage, and her videos) famously wore a dangerously plunging Armani dress last year, but we don't think she'll be able to get away with something quite so revealing this time around. Sorry, boys!
"Please be sure that buttocks and female breasts are adequately covered," reads the statement issued by CBS. "Thong type costumes are problematic. Please avoid exposing bare fleshy under curves of the buttocks and buttock crack… Bare sides or under curvature of the breasts is also problematic. Please avoid sheer see-through clothing that could possibly expose female breast nipples.
"Please be sure the genital region is adequately covered so that there is no visible 'puffy' bare skin exposure. Please avoid commercial identification of actual brand name products on T-shirts. Foreign language on wardrobe will need to be cleared. OBSCENITY OR PARTIALLY SEEN OBSCENITY ON WARDROBE IS UNACCEPTABLE FOR BROADCAST. This as well, pertains to audience members that appear on camera."
Well, there you have it. Do you agree with the guidelines or do you think half the fun has been taken out of the awards ceremony?
[Coco Perez]