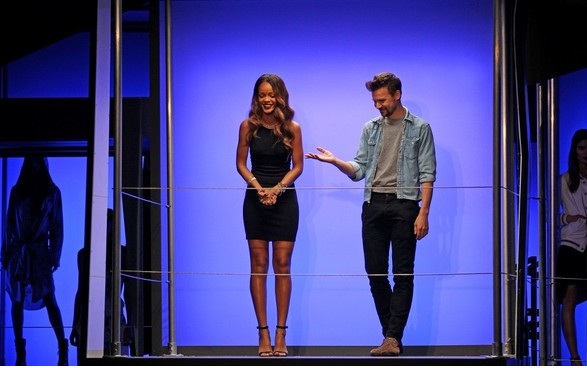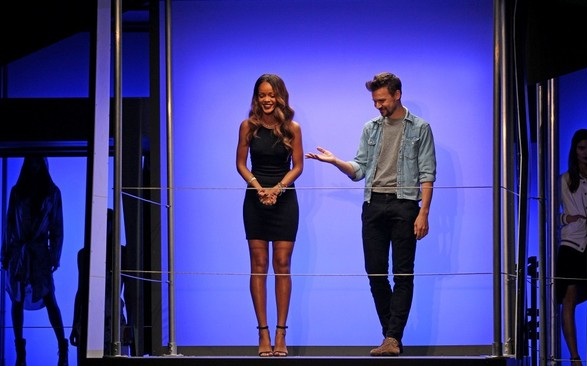 Whilst show-hopping at Somerset House this fashion season, I stopped off in one of the café's dotted conveniently next to the entrance of the exhibition I had spent ten hours gawking at.
Sat, almost inhaling a much needed caffeine fix, my ears happened to fall upon a rather heated debate between two relatively oppositely styled fashion week attendees: the interviewer happened to be dressed in run-around journo gear, complete with obligatory back pack and tatty notebook in hand. The interviewee, from what I could hear, was an aspiring designer. Their topic of conversation: Rihanna's latest collection for River Island.
Hitting stores on March 5, the collection has been a point contention ever since its London Fashion Week debut. Badgal RiRi's first 'official' venture into fashion came courtesy of high street super brand, River Island. Known for her penchant of the Nineties, with a healthy dose of sport-luxe thrown in (can you hear the multiple KERCHING'S, Mr. Wang?), it was pretty obvious these references were going to crop up in the collaboration.
But,  the point the two ladies were disagreeing over in what could only be described as a highly civilised cat fight was the hands-on approach to designing (or lack of) many celebrity collaborations are guilty of. Although pictures have emerged showing the Bajan beauty getting 'involved' and inspecting the collection, reports have claimed that co-designer Adam Selman was responsible for almost all of the handiwork, with Rihanna instructing via telephone and then arriving near the unveiling date to inspect samples.
She took the bow last Saturday night, and it's certainly called Rihanna for River Island, but was the interviewers argument, that a celebrity cannot rightfully claim a collection if they haven't had any physical creative input into the design process, a justified one to put forward? The interviewee was quick to hit back with a defensive stance, explaining that a designer's "mental creativity" is enough but, of course, this was met with yet another argument: RiRi's credibility as a fashion designer. Is the love of (and access to) great clothes enough to make the next John Galliano out of a vocal sensation?
With River Island providing a platform for the superstar's designs to sell, and probably being the only High Street brand that most closely relates to the star's personal style, it almost felt as though 'mental creativity' could be enough. But then came the not-so-rave, Kanye-in-Paris type reviews from industry insiders and fans alike, labelling Rihanna's creations 'characteristically simple', 'crack whore chic' and 'slutty, just like her.' It was a sad moment for me to contemplate, because her style is revered by so many young women; the perfect mix between slick and streetwise, urban and uber-luxe. Yet the Nineties references (nipple-baring mesh dresses and a rather direct ode to Baywatch with a bikini line revealing red bathing suit have proved too much for some of her shy-eyed fans.
That said, the collection isn't wholly devoid of wearable pieces: a hooded boiler suit caught our attention, as did the double-waisted denim, but what remains to be decided is whether it is Rihanna's supposed less-than-hands-on approach in the design process, or the verging-on-vulgar-for-some aesthetic she so comfortably advocates that will dictate how fast the shelves and racks become empty on March 5.
What are your thoughts on Rihanna's collection for River Island? Would you buy any of it?