Last Updated on 5th March 2013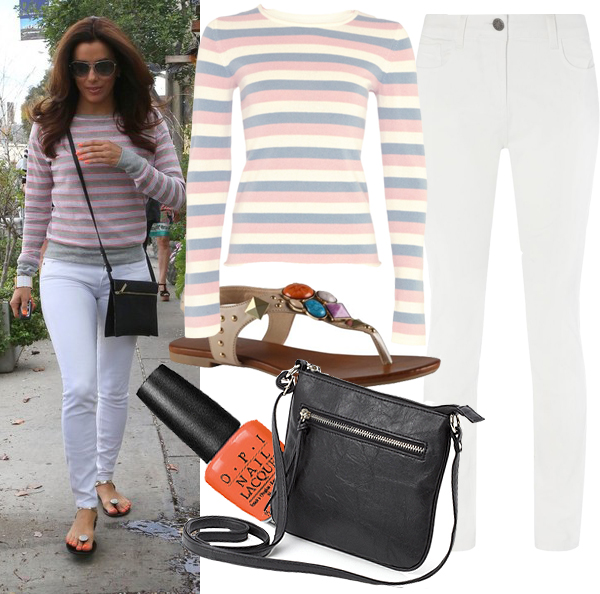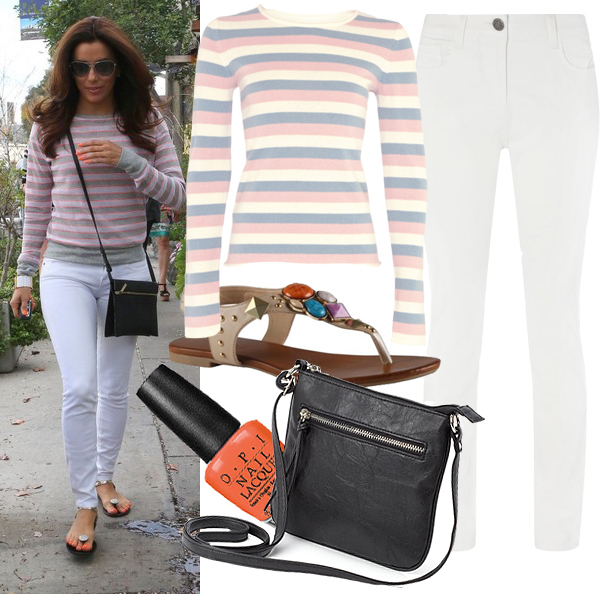 You know that spring has well and truly sprung when the bright nail polish is evident on the hands and feet of the celebs – and Eva Longoria's bold orange mani pedi is a great example.
The pint-sized Hollywood actress truly embraced the good weather by opting for some cool white jeans paired with some bejewelled sandals, which is a great combination to try out if you're feeling brave enough. We say "brave" because not only do you have to deal with the VPL problem that comes with light-coloured trousers, but you'll also have to be very careful to avoid spilling things on them which is probably easier said than done. Best to avoid public transport, parks and picnics as well, just to be on the safe side!
Still, if you want to steal Eva's cool and effortless spring style then check out the pieces we've selected below! Now please excuse us while we make an appointment for the nail salon…
Pink and grey stripe jumper, £70, available at Austique
Skinny fit jeggings, £14, available at Matalan
Black zip mini bag, £9.50, available at BHS
Flat sandals, £45, Aldo available at House of Fraser
Hot & Spicy nail polish, £15.95, O.P.I available at Nelly