Last Updated on 19th October 2013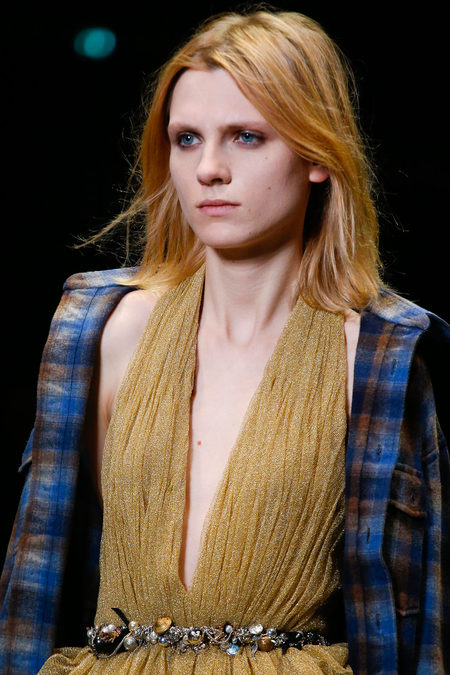 Well, what a week it's been at Paris Fashion Week, and, although Wang's debut at Balenciaga was rolling off the tip of everyone's tongue, it was Hedi Silmane's second collection since taking the helm at Yves Saint Laurent that got fashion gossip stirring.
So, what did you make of Slimane's second design offering for the Parisian fashion powerhouse? Shunning the legendary French chic the brand has built its identity upon, Slimane went down the route he knows best: grunge, and unapologetically Californicated at that.
Critics haven't been too kind either, slamming the autumn/winter collection shown in Paris on Monday for straying too far from what has come to be expected of the iconic brand. But all wasn't lost to negative review. Courtney Love tweeted her affection for the collection, dubbing it 'rich ladies buying what we used to wear'. But that shouldn't come as surprise  given Love's naturally grungy aesthetic, along with front rowers Alison Mosshart and Sky Ferreira, who similarly didn't have much to complain about.
Notably, Jess Cartner-Morley of The Guardian described the appearance of grunge on Parisian runway space, where sophistication reigns supreme and straying from the highbrow approach to dressing is by no means considered the norm, as 'an abstract concept'. This asks the question, then, whether Hedi's departure from the accepted ways of the Parisian fashion set was a deliberate act to assert his arrival at the house. But he could've done that in his debut collection, right?
Unsurprisingly, assertion has been a key theme this season; Simons asserted his famed sensitivity at Dior, Wang, by injecting the wearability at Balenciaga, and, of course now, Hedi. I can't help but mention here, that Tom Ford's excitably eclectic autumn/winter '13 collection had that two-finger attitude witnessed at Saint Laurent, or, as I like to call it, the fashion's Marmite effect: you either love it, or hate it.
Ramming California grunge down the delicate throats of Parisian onlookers is no easy feat, and putting a 'YSL' sign up outside the Grand Palais, almost like a final taunt, may not call for much French air kissing your way, but at least tying plaid shirts around our waist next season will suddenly look more expensive Kate Moss than junkie Kurt Cobain.
Are you applauding or, rather appalled at Hedi's digression from the traditional YSL aesthetic?