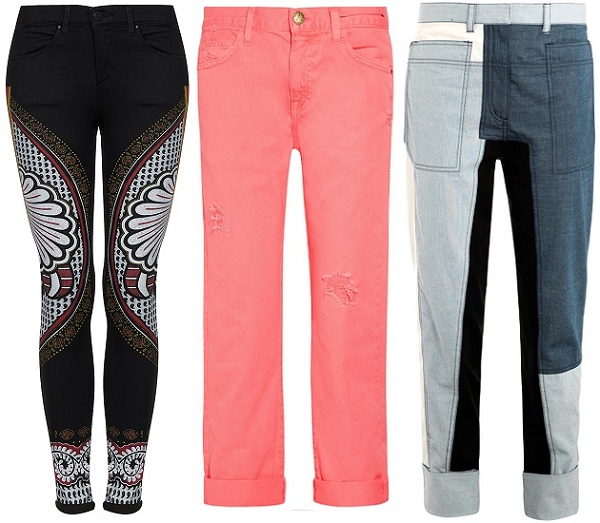 Jeans are undeniably the linchpin of any discerning style maven's wardrobe. Although available in a plethora of fits, prints and colours, they can sometimes be neglected when it comes to the more experimental side of fashion.
So instead of sticking to the boring side of blue and suffering with denim blues (pardon the pun), embracing the eye-pleasing variations that are available to us may be the next step in taking this staple item outside of its (and our) comfort zone.
Think fizzy shades, eye-catching embroidery and unexpected prints to elevate this perennial piece to its newfound glory, and pair with anything from a structured jacket to a simple tee or pullover for that comfortable-casual feeling with a fresh slant.
From patchwork pants to the new neon boyfriend jean and printed skinnies to the chic cropped flare, we've selected our top seven denim hits that'll leave you on a sartorial high. Now that's a stroke of jean-ius!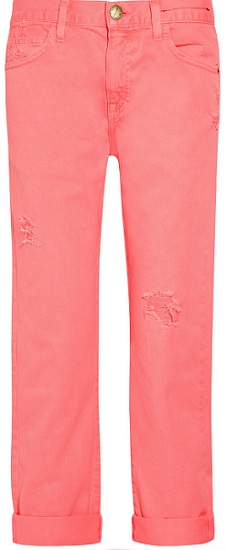 The Boyfriend Neon: The easiest way to insert a shot of colour into an off-duty look.

 The Skinny Plaid: A hot trend for spring/summer 2013, this plaid pair will have you dipping into the 90s well beyond this season.

 The Cropped Flare: Paired with kitten heels and a silk blouse, this pair is your short cut to unadulterated Parisian glamour.

The Tencel Palazzo: Is it a palazzo pant, or is it a flared pair? It's both, and it's the perfect 2-for-1 style hit for spring!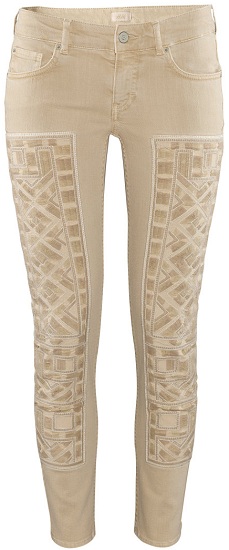 The Embroidered Skinny: Bring an artisanal quality to your denim this season with a splash of intricate embroidery.

 The Patchwork Jean: A refreshed take on the relaxed boyfriend fit; we promise you'll stay in this pair all summer.

 The Printed Skinny:  A dash of pretty print is the fool-proof way to pep up a simple outfit, and update a wardrobe classic.