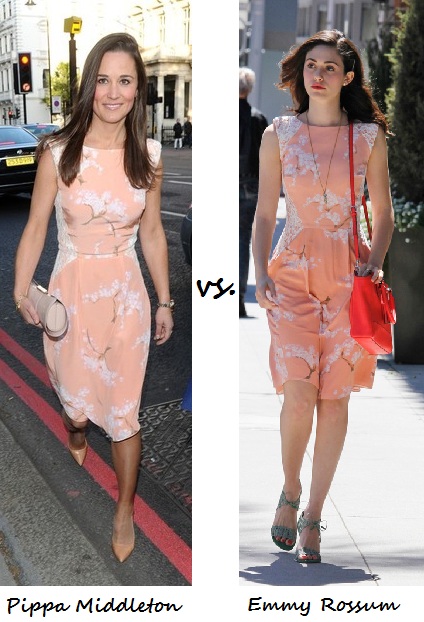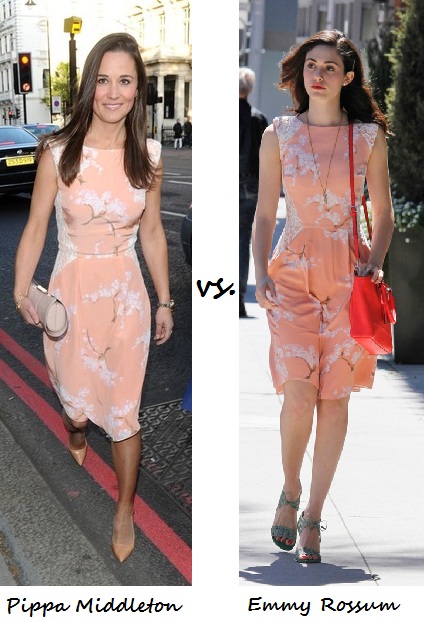 Red carpet looks will always remain the rage, but when two people wear a more casual look so differently, our fash-off radar goes into overdrive!
It's a clash between Hollywood royalty and British part-royalty this week, with Emmy Rossum and Pippa Middleton taking on the frock-off challenge in two differing looks.
Pippa opted to wear the Tabitha Webb summer blossom dress to the Waitrose summer party, held in London last week. Accessorising with nude pumps and a beige clutch, Pippa sported her signature glossy locks and a very rosy pop of colour on the cheeks. Smug, sister-of-the-future queen smile as standard, of course!
But bringing a sunnier spell to the style forecast was Emmy Rossum, who took the Tabitha Webb dress for an outing in the Beverly Hills sunshine last month, beating our Pips to it. Emmy's accessorising took an unexpected twist, as she carried a red shoulder bag and wore pale green sandals. A slick of colour on the lips and a long necklace completed Emmy's polished off-duty look.
But who takes the fash-off champ title? Both ladies are refined dressers, but there can only be one winner…and for us, it's Emmy!
Thanks to Emmy's bold red bag, the pastel pink colour and soft summer blossom print is uplifted, preventing the shade from washing her out. Pippa looks fab, too, but her look screams matchy-matchy, which, in fashion speak, is boring! Considering her sister is the (future) queen not just of the country, but of dress recycling, too, we'd love to see how Pippa would style this dress off-duty.
Do you agree with our fash-off verdict?
Image credits: Emmy Rossum, Pippa Middleton
Tabitha Webb Exclusive Fashion Targets Breast Cancer Summer Blossom Dress, £285, available at My Wardrobe