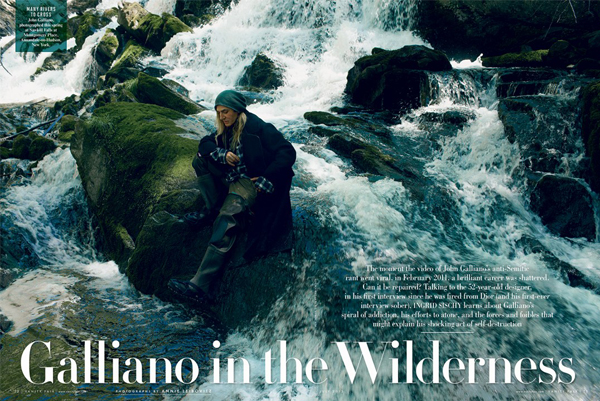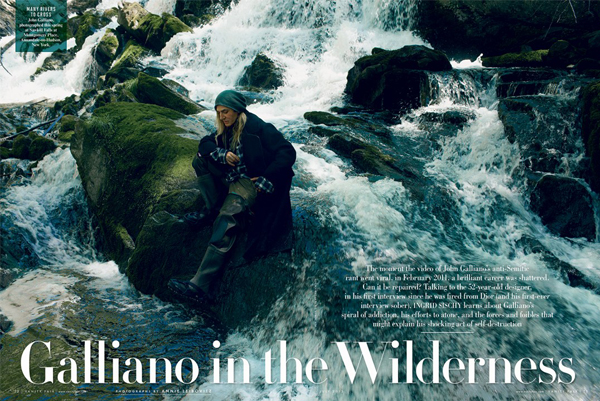 Channing Tatum is looking like a godly hunk on the front cover of Vanity Fair's July issue, but there's an even bigger reason to head to the shops and by the mag: John Galliano's first ever interview since the you know what scandal back in 2011.
The designer speaks candidly about those infamous anti-Semitic comments, the aftermath, his alcohol dependency, how Kate Moss "saved" him, and how he's turning what happened into a positive. Here are a few highlights from one of the most highly anticipated interviews the fashion world has ever seen:
On the infamous anti Semitic remarks in the Paris café:
"When everyone came over to tell me that I had done these terrible things, I was walking round and round and round not really knowing what had gone down," he said.
"My assistant told me about the video. When I saw it, I threw up. The feeling was like I was about to take a step out onto the street and a bus or truck whooshed past me and the blood was drained from my legs. I was paralysed from the fear. I have been trying to find out why that anger was directed at this race. I now realise I was so f***ing angry and so discontented with myself that I just said the most spiteful thing I could."
On pills and alcohol:
"I never drank in order to be creative, or to do the research. I didn't need alcohol for any of that. At first alcohol was like a crutch outside of Dior. Then I would use it to crash after the collections. I'd take a couple of days to get over it, like everyone. But with more collections, the crash happened more often, and then I was a slave to it. Then the pills kicked in because I couldn't sleep. Then the other pills kicked in because I couldn't stop shaking. I would also have these huge bottles of liquor that people got for me. Towards the end, it was whatever I could get my hands on. Vodka, or vodka-and-tonic. Wine, in the belief it would help me sleep. Wrong. I did manage to stop the voices. I had all these voices in my head, asking so many questions, but I never for one second would admit I was an alcoholic. I thought I could control it."
"What had started as self-expression turned into a mask," he continued. "I lived in a bubble. I would be backstage and there would be a queue of five people to help me. One person would have a cigarette for me. The next person would have the lighter. I did not know how to use the ATM."
On being "in denial":
"I had the tremors," he said. "I wouldn't sleep for five days. I would go to bookstores and get some self-help books, but I was in denial. I'd throw myself back into the gym. I'd be careful about what I ate. And, of course, the whole cycle would start again."
Galliano credits Kate Moss for "saving" him, as she asked him to design her wedding dress back in 2011. Since then, things have been looking up for him; he has been sober for two years, took up a short residency at Oscar De la Renta's studio in New York, and is looking forward to great things in the future.
"It sounds a bit bizarre, but I am so grateful for what did happen. I have learned so much about myself. I have re-discovered that little boy who had the hunger to create, which I think I had lost. I am alive."
Click here to read even more of the candid interview.