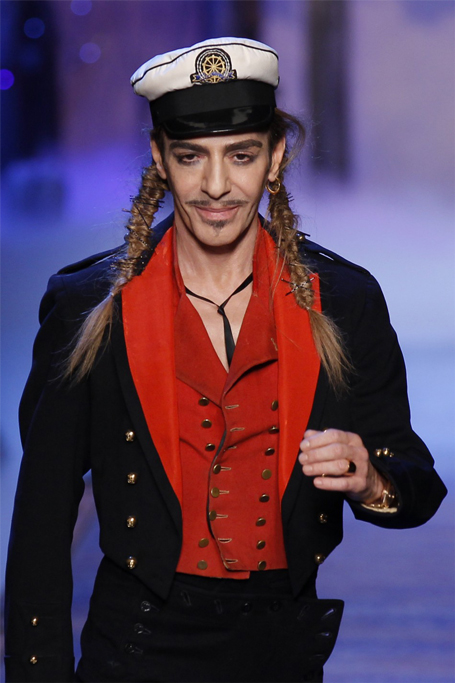 A host of designers from the likes of Giorgio Armani and Stefano Gabbana have publically got behind John Galliano since he was being unceremoniously fired from Dior and his eponymous label for making anti-Semitic remarks in a Paris café two years ago. However, it looks like Oscar de la Renta is the one who is helping him get back on his fashion feet by inviting him to take up a temporary residency in ODLR's New York studio.
"John and I have known each other for many years and I am a great admirer of his talent," he told WWD. "He has worked long and hard on his recovery and I am happy to give him the opportunity to reimmerse himself in the world of fashion and reacclimate in an environment where he has been so creative."
No one is quite sure what this means and how much input he will have in Oscar de la Renta's work (or whether he will  have any at all), but we don't think he's going to waste the opportunity…
"I am grateful to Oscar beyond words for inviting me to spend time with him in the familiar surroundings of a design studio," he told WWD. "His support and faith in me is humbling."
If and when JG does make his fashion return, we think he'll pretty much be welcomed back with open arms, as The Anti-Defamation League (who publically disapproved of his actions two years ago) has now given him its support.
"Mr. Galliano has worked arduously in changing his world view and dedicated a significant amount of time to researching, reading and learning about the evils of anti-Semitism and bigotry," said spokesperson Abraham H. Foxman.  "Along his journey to recovery he met with us on numerous occasions. He has accepted full responsibility for his previous remarks and understands that hurtful comments have no place in our society."
We'll keep you updated as soon as we find out more… are you excited for the return of John Galliano?