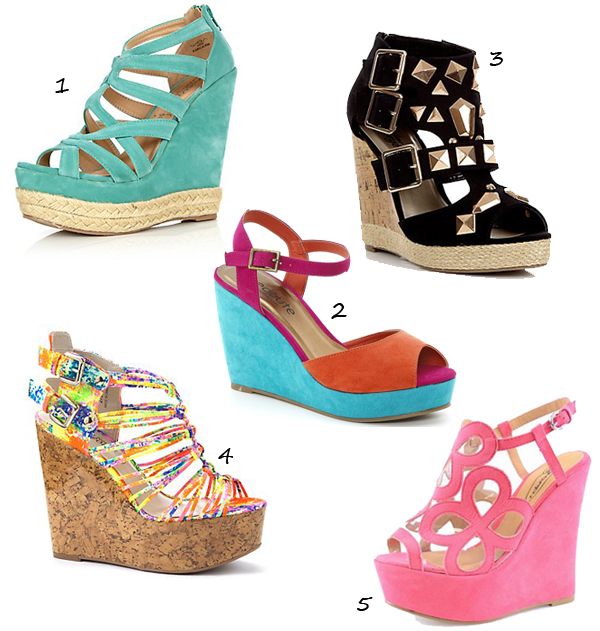 If you weren't fans of the wedge trainer (one of the marmite trends of the past couple of seasons) then you'll be pleased to know that summer footwear conventions dictate that they will be replaced by their far more feminine, far more unanimously likeable cousins, the summer wedges. Hooray! (Or booo, depending on your stance and preference).
Still, regardless of how much you may have loved wedge trainers, we know nobody can resist a sexy, chunky summer wedge, which is why we've picked five glorious (and super-affordable) styles that will see you through the summer season in style. And we really do mean affordable to everyone – they're all £30 and under. No, really!
1. New Look Turquoise cross strap peeptoe wedges: A hard-working wedge that screams "sexy summer sophistication" in a gorgeous eye-catching colour. What's not to love?
2. La Redoute Wedge sandals: These might appear deceptively comfortable at first, but they are in fact a daring 10cm in height. Only for the bold!
3. New Look Black large stud buckle wedge sandals: If you see "summer wedges" and just think "overly girlie footwear" then these baboys are the ones for you. They're tough, edgy, and are the summer equivalent to biker ankle boots. Fierce!
4. New Look Neon abstract gladiator sandal wedges: These babies have it all – the cork detailing we love so much, gladiator straps for comfort, and all the colours of the rainbow. Perfect for the sunshine!
5. Glamorous pink cut-out wedges: These wedges might be baby pink but you'll ooze grown-up glam when wearing them. We heart the floral cut out perspex design – so intricate!