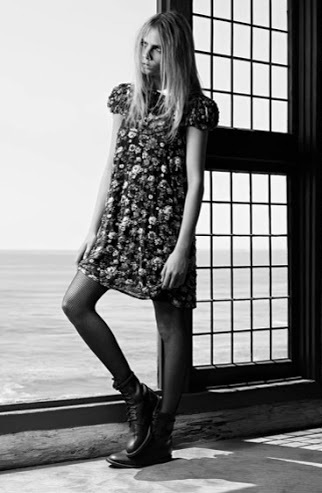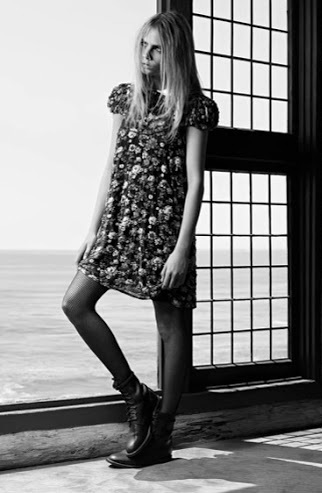 OK, so we've discussed the $35,000 backpack and gawked at the £160,000 nail varnish, but when a certain designer with a habit of irking many in the industry gets in on the action, you begin to question the 'normality' of your lifestyle against the lifestyle of those for whom these extortionate products are created.
Well, what we're trying to say is: who needs a $68,000 dress? It's not an intricate wedding gown, nor is it a couture piece, so why the horrifying price tag?
Said dress is an embellished baby doll dress from the Saint Laurent Fall 2013 collection, and modelled by face-of-the-moment, Cara Delevinge in the accompanying campaign. But we sniff an ulterior motive, one that'll only help escalate Brand Slimane (not Saint Laurent) higher.
After giving us a $61,000, predominantly polyester jacket (sacrilegious coming from a purveyor of luxury), we thought Slimane would calm down the flamboyant antics, and carry on quietly battling the voices in his head advising him who to ban from his spring/summer 2014 show. But instead, he upped the annoyance ante with a dress to match, and now we're left wondering whether we'll ever take the creative director seriously again.
His fall 2013 show sparked heated debate in the industry, given his knack for earth-shattering change, but we feel his most recent ploy seems set to alienate people from the chic French fashion house.
For many of us Yves Saint Laurent was the epitome of Parisian glamour, giving us iconic, uncompromising looks that have stuck. But it seems Slimane is bent on overhauling the smoky, decadent mystery we've always associated with the fashion house, and, along with the ostentatious dress, nothing proves this to more true than the opening of the new store in Soho, New York; a stripped back abode for a more downtown look.
So strong is this move that, given the credentials of the new store's locale, Slimane's brazenly telling us he isn't here to design and serve, but, much like the $35,000 backpack, to shock.
How do you feel about the new direction Saint Laurent has adopted?