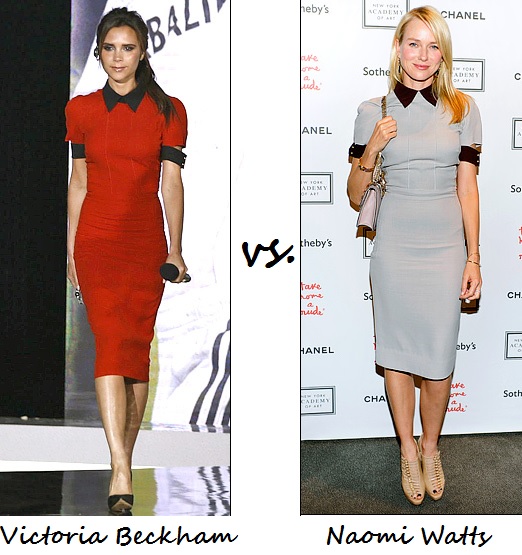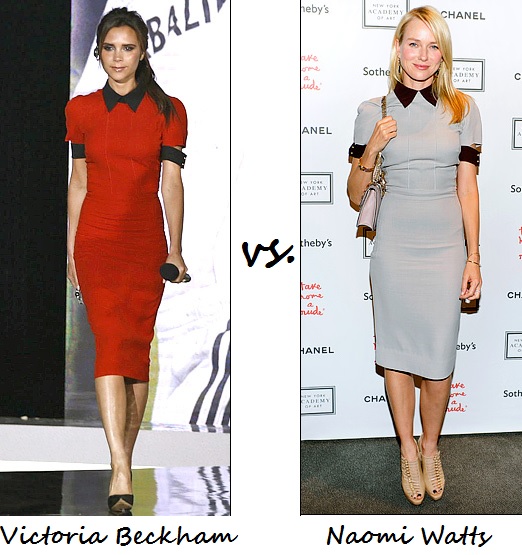 We're guessing you've already made up your mind looking at the title of this fash-off, but hang with it – you may just be surprised!
We're pretty sure no one pulls of VB designs quite like the lady herself (what better way to promote your clothes?), but for this week's fash-off, Hollywood A-lister, Naomi Watts fancied pitching her fashion cards against the sartorially superiors Mrs. Beckham.
Attending the Take Home a Nude Benefit Art Auction at Sotheby's in October last year, Naomi Watts wore a Victoria Beckham Fall 2012 dress. The form fitting number featured a matching maroon collar and cuffs, and the look was competed with Christian Louboutin peep-toe heels and a Valentino Rockstud shoulder bag.
Now, if you've been keeping on top of Victoria Beckham's global trotting, you'll know she was in China recently, for the launch of her fashion line at Lane Crawford in Beijing. Appearing on Chinese national television with husband David, Victoria slipped into a red version of the same dress – clearly knowing how spellbound it's had fashion lovers since debuting on the catwalk two RTW season ago.
VB teamed the dress with black Casadei pumps and a wispy ponytail, flashing a faint smile as she appeared on television screens across the country.
But who wins? Well, we've come to understand that Victoria Beckham is her own best model, and this time round, she's effortlessly done it again! Although the dress looks fab, Naomi's choice of similarly-hued accessories wash out the entire look, but everything about Victoria's look screams perfection. Can this woman do no wrong?
Who do you think wore Victoria Beckham better?