Last Updated on 7th August 2013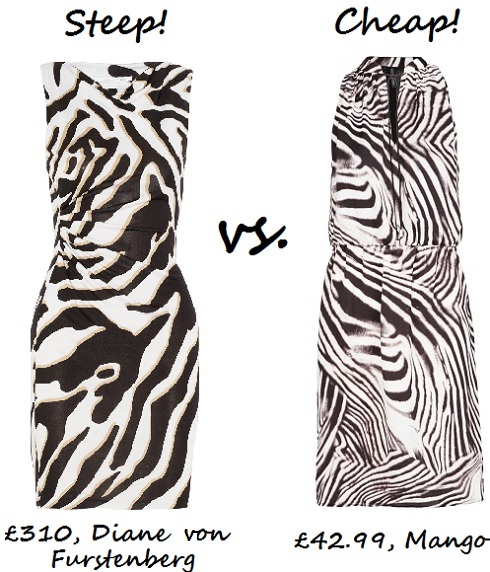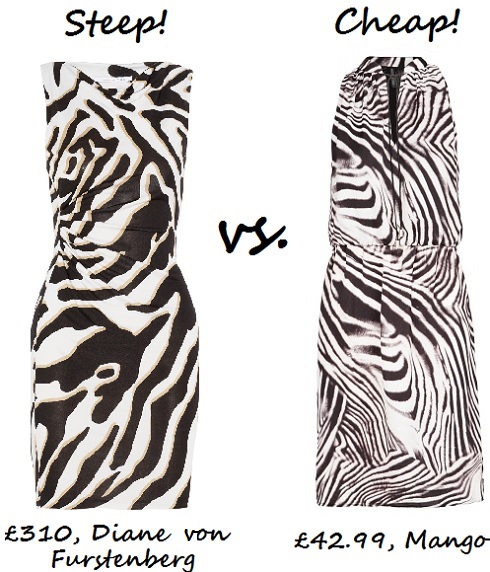 If you're looking for a printed pick-me-up, we've tracked down the perfect high-end and high street options to slip into right now!
Animal prints are a long-standing love story in the fashion world, and one we're not going to stop sporting any time soon. From classic leopard print to the slightly more fashion forward snow leopard; delectable Dalmatian prints splashed across lust-worthy Saint Laurent bags to zebra prints becoming apt outside of the zoo, adorning everything form versatile sweatshirt to clutches and tees – you get where we're going with this!
So when we laid our eyes on two party-perfect zebra-print dresses for this week's Steep vs. Cheap, we had to put them to you, our savvy shopping and bargain-grabbing but high-end appreciating readers.
At the steep end this week, we welcome the Diane von Furstenberg Glasmary zebra-print dress, which cashes in at a wholesome £310. The unrivalled denizen of prints that set your heart aflutter, Diane von Furstenberg knows how to convince even the shyest of the fashion set to douse themselves in eye-popping patterns.
Taking a breather from leopard print, we can't think of a better option than the gorgeous, form-fitting Glasmary dress if you're looking to splurge.
But if you're a slave to fashion, minus the budget to match, then fear not. We've tracked down an equally desirable zebra-print dress at high street haven Mango, for a pocket-pleasing £42.99. Perfect for dressing up with heels, or going off-duty in flat sandals, there will be many repeat wears with this dress, we just know it!
Steep: Diane von Furstenberg Glasmary zebra-print dress, £310, available at Net-a-Porter
Cheap: Zebra-print dress, £42.99, available at Mango