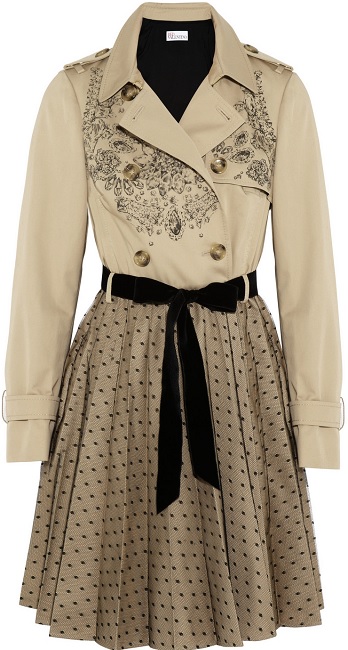 Is it a trench? Is it a dress? What is it?! After witnessing a not so positive take on hybrid dressing, courtesy of a certain Cyrus, we were sceptical about the two-in-one approach to our wardrobes. Then, along came this little number from Red Valentino, and the topic was up for discussion again.
Putting a pretty, feminine twist on the perennially chic cover up, the Red Valentino printed tulle-covered cotton-twill trench coat is a cheat's way to looking party fabulous in five minutes – right out of the office!
But is it worth the investment? Is the style shortcut justified? Check out the reasons we're saying yes and no (in the same breath) to the Red Valentino trench below:
Yay
Coat-dress: Championing Kate Middleton's eternally favourite (and easy) look, you'll be killing two wardrobe needs with one killer coat. Need we say more?
Subtle detail: The jewel motif splashed across the chest isn't overpowering, and the dainty, Swiss-dot tulle overlay gives the trench day-to-night appeal.
Classic colour: Crafted in breathable cotton-twill, the trench comes in a classic shade of beige, possibly satiating your need for the dearer version over at Burbz!
Nay
Limited by trend: Its lady-like appeal could possibly limit the wear you get out of this trench, confining it to the days for when your inner Carrie needs an outing.
Price: At £750, it's not exactly as easy on the pocket as it is on the eye! Take a long, hard look at your wardrobe before deciding to take the plunge, and consider if the trench will work with it. After all, it's a classic cover up you're going to want to keep reaching for.
Not universally flattering: Given the waist-cinching qualities of the velvet belt are magical, a full pleated skirt isn't flattering for everyone's shape – especially if you've been graced with a booty of Bey-queen-once proportions, in which case we are very, very jealous.