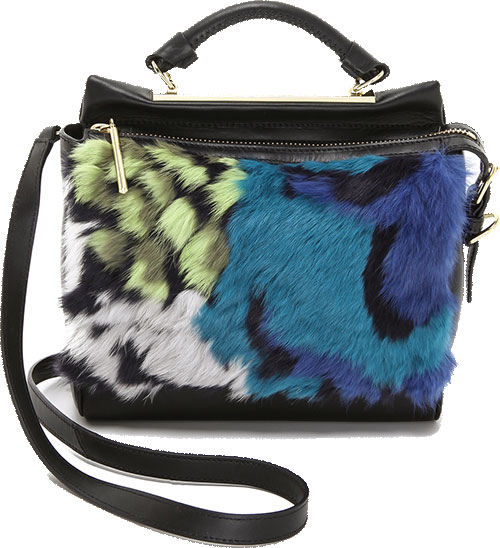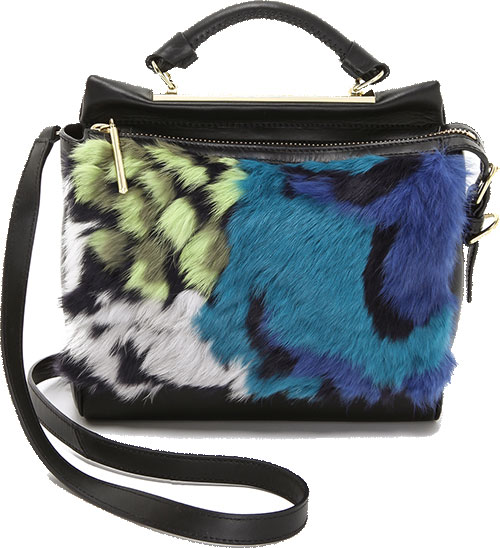 When we spied the Ryder Satchel on the runway, we knew this 3.1 Phillip Lim bag was set for statement status. After all fur, in all its wacky permutations, played a big role in shaping the trends for autumn/winter 2013, and Lim was right on point with this satchel.
Featuring a riot of dyed fur in jewel tones, and crafted from buttery soft leather, the trusty Ryder satchel comes with a handy, adjustable shoulder strap; a short handle for easy carrying, and bags of room (pardon the pun).
After the phenomenal success of Lim's Pashli bag, we don't blame you for being taken with the Ryder, either. So, to eliminate any pre-purchase confusion, and, before you leap in to satisfy those new bag cravings (we all get them), check out our mini guide to snapping up the Ryder bag (or rather leaving it in your e-basket) below:
Yay
Easy day-to-night option: Sling it over your shoulder for brunch, or grab it by the handle – even do an 'Editor's tuck' by carrying it under your arm, like an upsized clutch – for night.
Practical: Well, satchel does spell space, and that's a plus point when splashing the cash on designer arm candy!
Statement bag with substance: You're guaranteed to get some good use out of the Ryder satchel, and it'll work just as well as a conversation-starter. Bravo!
Nay
Price: At a princely £876.16, you're looking at a dent just shy of a whopping £1,000 in your pocket, not to mention nearly a whole month's rent suddenly going 'missing' from your life fund. You choose.
Trend-centric: Although fur, faux or otherwise, is a wardrobe classic, the multi-hued version is very now. If you're not keen on investing in this 'season' so strongly, then opt for a more muted, trans-seasonal fur bag.
Fur: Depending on where you stand with regards to wearing any form of animal skin, the Ryder satchel features dyed rabbit fur. If you're anti-fur, don't miss out on the soft-to-touch action, and try a faux option, instead.
3.1 Phillip Lim small Ryder satchel with fur, £876.16, available at Shopbop.