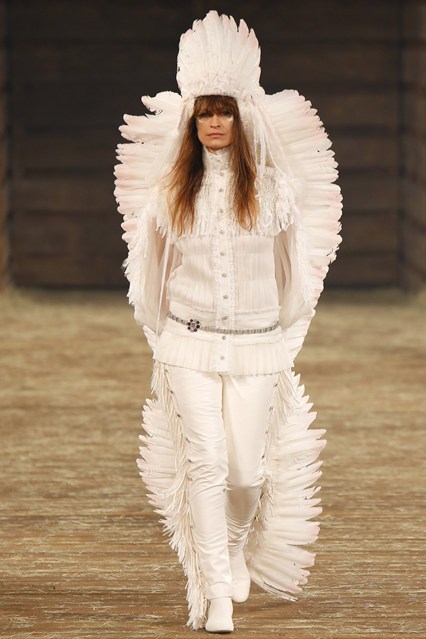 We're having a serious case of déjà vu. This time last year, the fashion world was up in arms about the Native Americam headdress Karlie Kloss wore down the Victoa's Secret catwalk, forcing the brand to pull her appearance from the broadcast and issue an apology for any offence caused.
And now the very same thing is happening, only this time it's Chanel's Dallas Metiers d'Art show – more specifically the feathered headdress above. The situation hasn't played out in the same way though, as Karl Lagerfeld didn't seem keen on getting down on his knees and begging for forgiveness…
"The Chanel Paris-Dallas Metiers d'Art 2013/2014 collection is a celebration of the beauty of Texas," a spokesperson for Chanel said.
"Native Americans are an integral part of Texas' rich history and culture and the feather headdress, a symbol of strength and bravery, is one of the most visually stunning examples of creativity and craftsmanship.

"We deeply apologise if it has been misinterpreted or is seen as offensive as it was really meant to be a tribute to the beauty of craftsmanship."
We think that means that they're sorry if anyone was offended by it, but it's staying firmly put because their intensions were pure.
Thoughts?