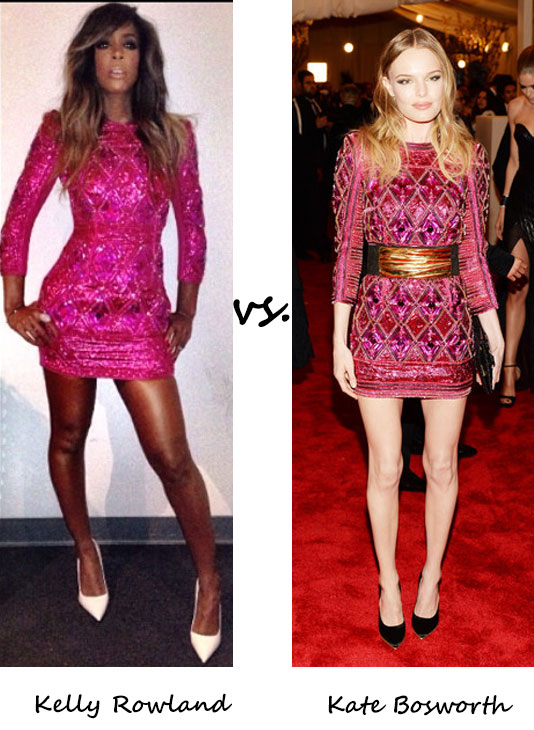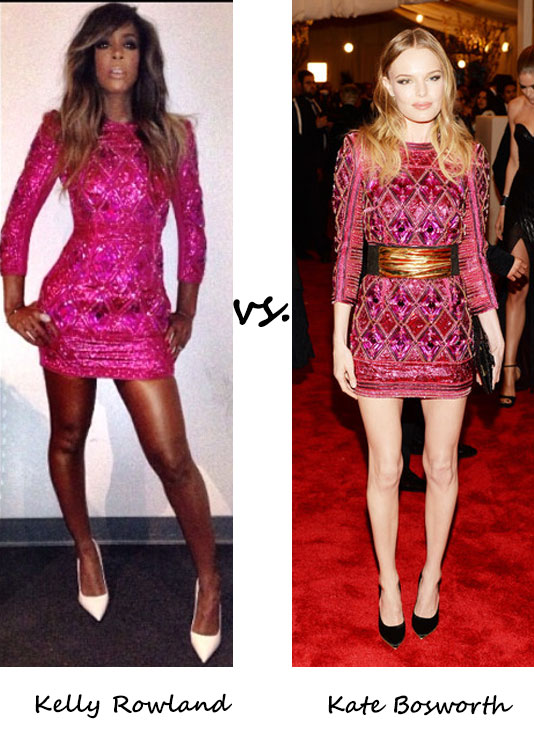 Two ladies. One blingin' dress. You know the drill. This week's fash-off comes courtesy of leggy lovely, Kelly Rowland and Hollywood darling Kate Bosworth. Both ladies were spotted in the same Balmain Fall 2013 dress, albeit with very different style results.
Although a top, thanks to the oversize fit, Kate was the first one to turn this embellished showstopper into a dress, at the 2013 Met Gala. Unlike the runway look, Kate went with bare legs, a gold belt to cinch the waist and simple black pumps. A small black clutch and strong eyeliner completed the look nicely.
But catching up with Kate in the style stakes was X Factor judge Kelly Rowland, who styled the same dress differently for an appearance on season three of the American show, last year. Pairing the top-cum-dress with nothing other than white Tom Ford pumps and her voluminous locks, Kelly rocked a killer pose, as she posted the outfit on Instagram.
But, seeing as it's a fash-off, there can only be one winner, so we're going to slip the first style crown of 2014 onto Kate's head! There isn't much that Kelly can't 100 per cent rock, but we love Kate's accessories, and feel the belt does wonders to frame her petite shape. Definitely a striking, and memorable look from 2013!
Whose look wins for you?