Last Updated on 14th January 2015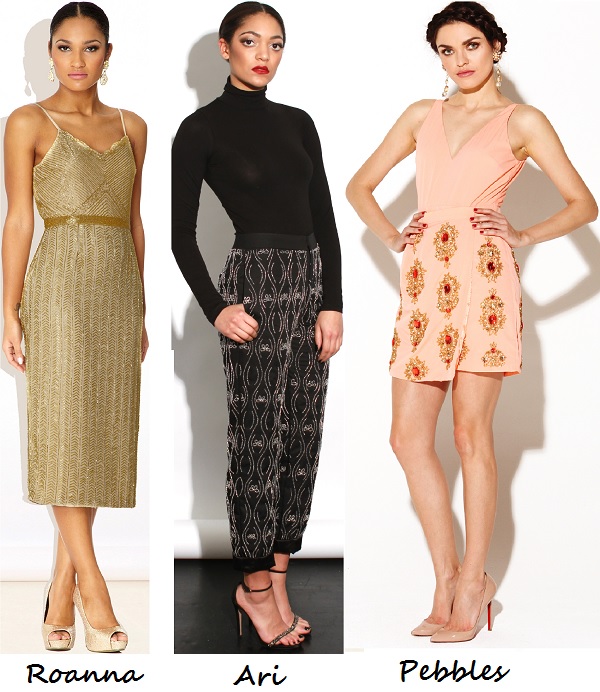 WHO: Established in 2008, Virgos Lounge is a London-based womenswear brand offering vintage-inspired pieces with an updated slant. Think retro silhouettes charged with new season embroidery; a gorgeously, scalloped-sleeve gown harking back to the Twenties, and you're there.
WHY: Specialising in attention grabbing party wear, Virgos Lounge presents an array of styling ideas, from embellished evening jackets to seventies-inspired jumpsuits, ensuring you're never short of a dance floor-worthy look the next time you head for a night on the town.
The spring/summer 2014 collection carries this season's trends with ease; from dresses reflecting a bold, primary colour palette to eye-opening embellishment adorning shoulders, necklines and hemlines. Slip into the striking blue Liv dress for the ultimate Seventies hit, or release your inner Riviera chick in the candy peach Pebbles playsuit, updated with a crystal-bedecked baroque design.
OUR FAVOURITE PIECES:
If a new outfit is in order every time you plan to party (well, looking good is the most important part, right?), then you won't be short of click-home ideas at Virgos Lounge. But, to whittle down the endless choice of stunning looks, we've picked out three of our favourite pieces (pictured above), and here's why we love them:
Roanna dress: The perfect dress for an uber-glam event, we love the delicate camisole neckline, flattering waistline detail and sandy gold hue. Splashed in fine gold beading, there's no way this dress will miss out topping your wish list!
Ari trousers: Ditch the dress, and let the trousers do the talking. Simple! This striking straight-leg style, covered in sliver embellishment, is sure to be a conversation-starter. If you like glamming things up for the day, just pair with a simple top.
Pebbles playsuit: Did someone say yacht party? In this playful-yet-glam jumpsuit, we're there! Although it's festooned to perfection, we'd be as happy sipping cocktails by the beach in this beauty, as we would at a summer wedding. A great option if dresses aren't your thing.
Shop the complete Virgos Lounge collection here.