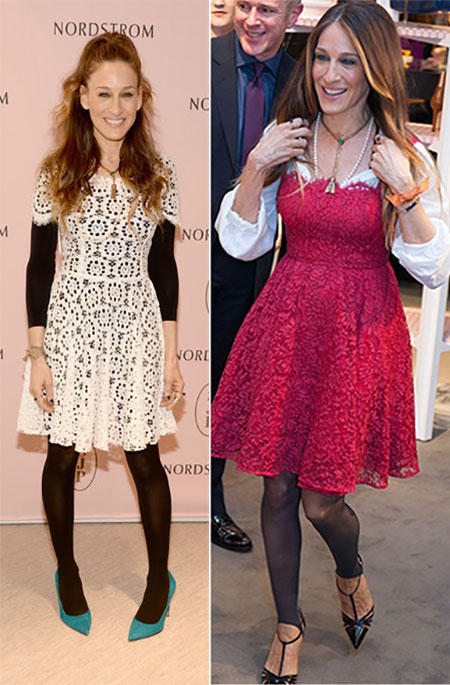 Did we ever imagine Sarah Jessica Parker would encounter a post-SATC wardrobe malfunction? Not really, given she's besties with Anna Wintour, and has a finger in every fashion pie imaginable.
So, when she treated us to TWO faux pas in the space of a few days, we felt a little, well, bemused. Stirring up the fashion rules in Dolce & Gabbana on both occasions, SJP seriously missed the mark with some pretty unusual layering tricks, and a rather odd approach to hosiery.
Disaster 1: struck when she attended the launch presentation of her SJP by Sarah Jessica Parker shoe collection at Nordstrom in L.A. Wearing an ivory Dolce & Gabbana dress over a black top and tights; the outfit was a pretty odd choice for sunny Cali. Finished off with green pumps and a half-up ponytail, we're not quite sure where Sarah was headed with this one.
Disaster 2: played out at the Nordstrom Aventura mall in Florida, where once again on promotional duty, Sarah put together an eye-catching-for-all-the-wrong-reasons ensemble. And, boy did she leave us confused! Layering a red lace Dolce dress over a long-sleeved shirt and finishing off with footless tights and Carrie T-bar pumps from her own collection, this look was dressed-in-the-dark personified.
Two bewildering looks from a lady who's usually overspilling with glam is too much for our style-seeking hearts to bear. Here's hoping this doesn't happen again – at least not to the lady with the dream wardrobe!