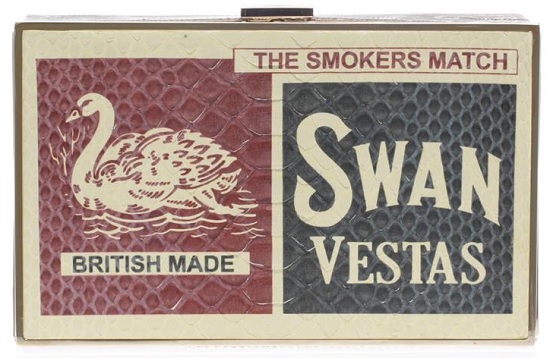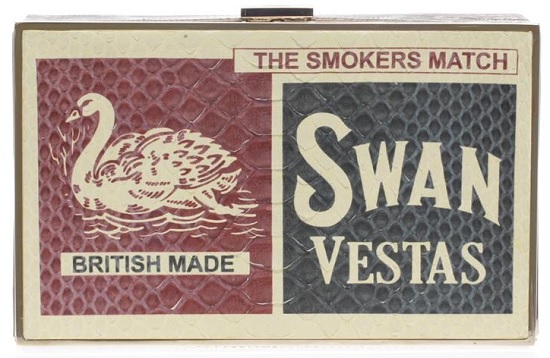 We're digging' it because…
Who wouldn't love a fashionable spin on household essentials? After making us drool at the household essentials-gone-haute accessories collection for autumn/winter '14, a rather covered style from the Anya Hindmarch spring/summer '14 collection has landed on our radar.
Enter the Swan Vestas Imperial matchbox clutch. With its gold metal framed box style encased in luxe printed python, and grey lizard top and bottom panels, you'd be forgiven for thing it was the Queen Bee of the clutch collective! Tempted to take it home? Read on.
Why we're totally saying yay…
Luxe investment: If you're looking to splash major monies on your next handbag treat, then the Swan Vestas clutch is right there with the best of them. A luxury exterior paired with stunning detail is a winning combination, didn't you know?
Great for accessorising day or night: Now that the evening clutch rule has long been forgotten, add interest to a simple day look with this conversation-starting option, and you're sure to win a few fashion fans.
Easy to style: Given that neutral tones of grey, white and gold are paired together, you won't struggle to style this clutch with your wider wardrobe. Sometimes, the Anna Dello Russo approach to colour isn't always the best way.
And, erm, maybe nay…
Price: Yes, it's sadly a little (OK, very) steep. *Cough* £1,295 *Cough*
Trend-centric appeal: We blame Charlotte Olympia and Sophia Webster for further fueling our love for statement-making (literally) clutch bags. A coveted book cover or phrase is great, but can you sniff a repeat wear?
Size: Sadly, a matchbox clutch is going to live up to its name, right? Although it's bigger than an actual Swan matchbox, you won't get past squeezing the bare essentials in. If you're after copious amounts of space when splashing serious money, then the rest of the Anya Hindmarch range is more your thing.
Anya Hindmarch Swan Vestas Imperial matchbox clutch, £1,295, available at Matches Fashion.