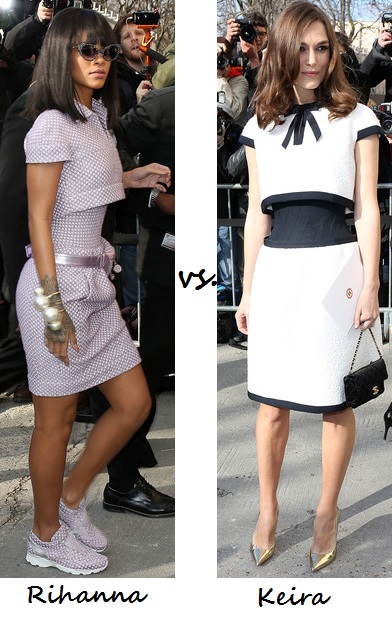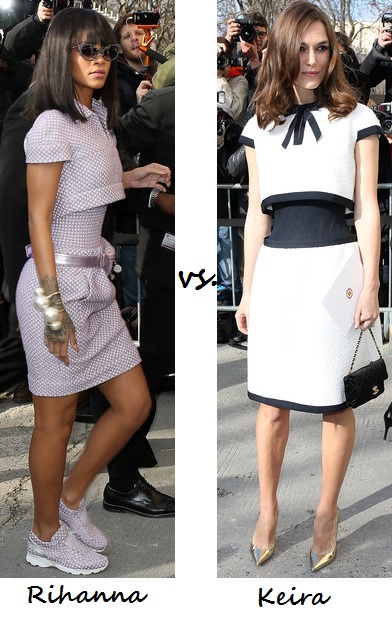 Being a Paris Fashion Week stalwart, the hype and excitement surrounding Kaiser Karl's seasonal offerings at Chanel knows no bounds. So, naturally, we expect nothing short of a super-stellar front row attendance, too
Involved in a fierce frock-off this week are Keira Knightley and Rihanna, and you know it doesn't get more bring-your-A-game than this pair of Chanel darlings. Arriving at the autumn/winter 2014 show in Paris, both ladies rocked waist-accentuating numbers, making it pretty damn difficult to pick between the two!
Although she's clarified that she won't repeat-wear her Chanel wedding dress, Keira Knightley still brought all the 'double C' charm to the front row. Dressed in a monochromatic cropped dress, her tiny waist made for the main attraction, beautifully accompanied by pointed gold pumps and a teensy chain-strap Chanel bag, natch.
But, intent on stealing the show (as always), Rihanna bumped up the chic levels in a lilac dress of similar style. Bringing her own brand of quirk to the look, RiRi mixed it up with matching bum bag and the shoe-cessory du jour: sneakers. Rounding off her look were retro-inspired cat-eye sunglasses and an oversized pearl bracelet.
So, whose look is worthy of stealing the front row Queen (C) Bee crown? Tough one, isn't it? Given both ladies subscribe to completely opposite schools of style, we can't forget Mr. Lagerfeld encourages a pretty-gone-hyper-cool approach to fashion. So, inevitably, Mademoiselle RiRi takes the style crown this week.
Whose look wins for you?