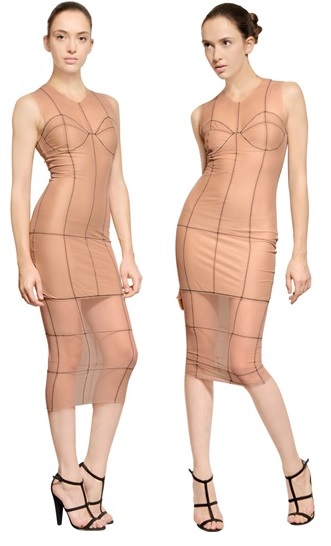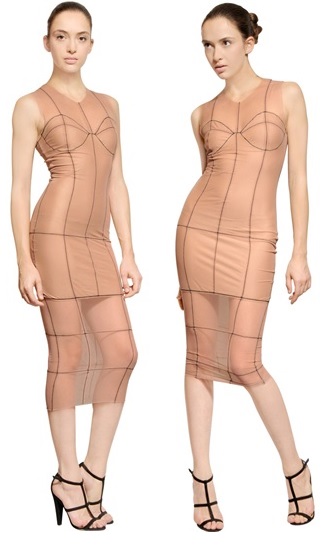 It's fabulous because…
It professes to act like a sexy second skin, and we could certainly get on board with that! Andreea Badal, the brainchild behind Murmur, designs with the aim to emphasise the sensuality of the feminine form, and the Figure dress is a perfect example.
Mimicking a delicate, tracing paper sketch of the perfect female form, the Figure dress is the ultimate statement summer dress purchase. Need a guaranteed head turner at your next soirée? Read on…
We're, like, totally saying yay:
Flattering: From the crayon drawn lines to the body-skimming spandex underlining, this dress sort of promises Kim K levels of hourglass perfection.
Neutral colour: The nude hue and transparent fabric make for an alluring mix, allowing the right amount of flesh exposé; an ideal date dress.
Exciting designer: After cutting her teeth at Richard Nicoll, Alexander McQueen and Emilio de la Morena, designer Andreea Badal's heightened appreciation for the female form, and the ability to highlight its beauty in non-traditional ways, is pretty evident.
But then again, we're saying nay because:
Price: Prepared to cough up £548 for this beauty? That's an urgent gym subscription just shy of £600!
One-wear statement appeal: Although we love the sketch detail, it could also land this dress in the one-wear-then-despair pile. If you'll brave repeat wears, then click it home right away.
Unforgiving silhouette: Going for a figure-hugging number is a double-edged sword; it requires dedication to abs and a serious habit of forgoing foods that make you say 'So good!' Damn.
Murmur Figure stretch tulle and techno jersey dress, £548, available at Luisaviaroma.