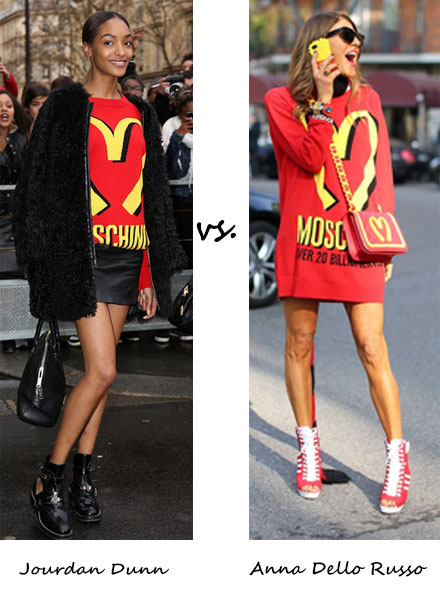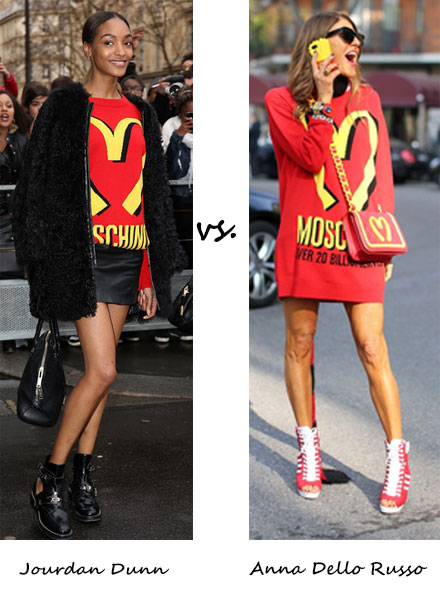 This week's dress-off has pulled in two major fashion players, both of whom know how to leave their well-dressed imprints on our style-saturated minds.
Upping the glam factor during Fashion Month, as per usual, was Anna Dello Russo – the high priestess of unabashed, high end fashion that says nothing of a tamed approach to dressing in the morning.
Sporting autumn/winter '14's biggest parody of fast fashion – the 'Over 20 Billion Served' McDonald's sweatshirt, masterminded by Jeremy Scott at Moschino – during Milan Fashion Week, ADR gave us (and the flurry of street style photogs) pure, unadulterated viewing pleasure. Wearing it as a dress, she accessorised with a matching quilted bag, featuring the symbolic Golden Arches; a woollen scarf and lace-up booties. The matching phone cover certifies this look as Dello Russo down to a T.
But, putting a slightly more pared back spin on this brash runway number was Brit babe Jourdan Dunn, who opted to take a much more NYC approach with her styling. Tempering the loudness of the sweat with all-black staples; a leather mini skirt, shearling coat, trusty tote and Balenciaga cut-out boots completed the look. Perfect.
So, who deserves to be crowned the sartorial queen in this war of wonderful wares? Given there's a world of difference between the styles of these two fashion queens; we're sticking with our slick style guns on this and awarding Jourdan the accolade. Anna's power dressing prowess never fails to excite, but Jourdan's effortless ease makes her look a lot more wearable. You go, girl.
[Images: Jourdan; Anna]