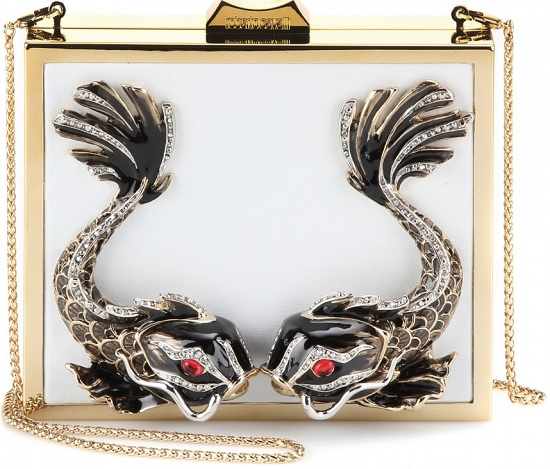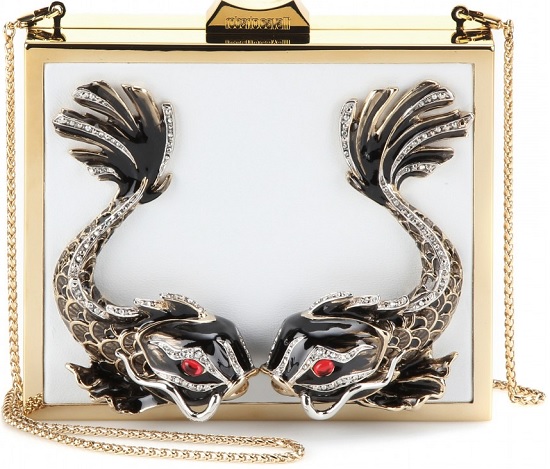 We love it because…
Not much can match up to the feeling of handling a box fresh bag. The buttery-soft leather, fingerprint-free hardware and cool status appeal make it all the more desirable, and when it's got a high end fashion house's name behind it, resistance is futile.
This week, tempting us with its easy-on-the-eye charm is the Roberto Cavalli metal and leather box clutch (£1,720). This ornate conversation-starter is sure to make you the envy of your party pals, but not before stealing the show with its eye-opening detail.
It's a definite yay from us on these counts…
Perfect party bag: Who wants to lug around a tote-sized party pooper on their arm, when you can have a miniature beauty do all the hard work without cramping your style?
Ultra-luxe investment: If you're looking to drop some serious cash, then this rather pricey option might serve as the ideal finishing touch to your party night look.
2-in-1 bag: Is it a clutch, or is a shoulder bag? It's both! The super-handy detachable shoulder strap makes this box clutch an easy carry-around.
Then again, we're not so sure…
Price: Well, with a price tag hitting the 2K mark, you're sure as hell set to become a devotee of the baked bean diet for some time.
Limiting size: Although we love its tiny size, its not always practical to call a small square your 'bag for the night.' Past a few absolute essentials, you won't be cramming much else in here.
Fragile: The ridiculously stunning exterior detail means this bag needs a watchful eye on it; don't go swinging it about once you scale those tables after a tequila shot, (or three).
Shop it here: Roberto Cavalli metal and leather box clutch, £1,720, available at My Theresa.