Last Updated on 18th April 2014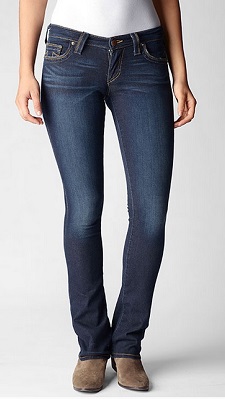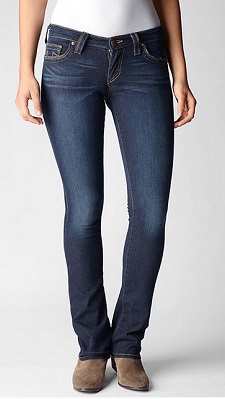 Jeans are our sartorial best friends. They save the day when we just don't know what to wear, and for that, we are eternally grateful.
However, akin to the people wearing them, jeans come in all different shapes, colours and sizes, which means it is possible to pick the wrong ones and therefore give them a bad reputation.
There's nothing worse than ill-fitting jeans – they're uncomfortable for the person wearing them, and aren't pleasant on the eye either – so we're here to give you some tips on shopping for the perfect jeans so everyone is happy all the time! Here goes:
Know your body. Bodycon dresses look great on the curvy Kelly Brooks of the world, T-shirt dresses look cute on petite girls, and anything in the colour orange looks fantastic on anyone who's just come back from holiday with a gorgeous glowing tan. Yep, different body types suit different items of clothing, and jeans are no different. Skinny jeans look great on girls with slender pins, and high waisted jeans are perfect for the more vertically gifted lady. Bootcut jeans are wonderful for adding some shape and definition to a silhouette. We guess what we're trying to say is that different styles suit different body types, so it's important to know what works for you. Try everything out and ask more than one person for an honest opinion!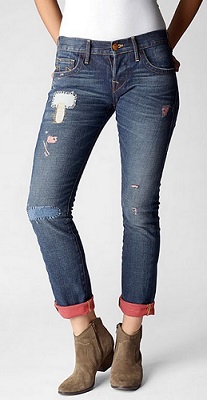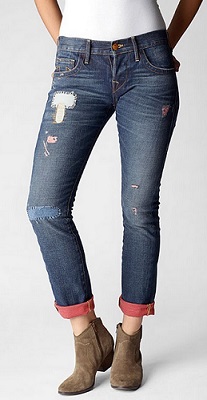 Know the occasion. If you want a casual and comfortable pair of jeans for that effortless "I just threw this off" look, then baggy boyfriend jeans or ripped jeans for women are the way to go! If you're looking for something to wear in the smart/casual bracket, then there's nothing quite as chic as a black pair of skinny jeans teamed with a sky high heel and a fitted blazer. The darker the colour, the smarter it looks!
Familiarize yourself with the fabric, cut, colour and rise. All of these things are important in a pair of jeans, and can't be overlooked if you're shopping for the perfect pair. Stretchy fabrics are great for a pair of skinny jeans as it means you'll spend less time on the floor comically wriggling into them. As we discussed earlier, colour is also important; not only are darker denim jeans smarter, but they're also more flattering and less likely to show unsightly lumps and bumps. Low rise jeans are perfect if you're going for that Britney Spears circa 1999 look and want to have your bronzed and pierced belly on show, while high rise jeans can also act as a discreet pair of Spanx too as they can suck things in at the same time.
Try them on. Jeans aren't one-size-fits-all, although this rule is more about the style as opposed to the size itself. Most stores and brands have different ideas about what each size is, so it's vital that you try before you buy. Don't just try to make sure they button up, as there are other things to consider too. Take the footwear you will be wearing them with into the changing room. If you're wearing them with heels, you want to make sure they are long enough to pair with even your highest Louboutins, or if you're teaming them with a fierce pair of boots, you want to make sure they're skinny enough to fit inside.
Go for the classics! Levi, J Brand, rue Religion – among other things, we associate a cracking pair of jeans with these brands, and that hasn't happened overnight or by coincidence. It's important to do your homework before buying a pair of jeans, and one thing you'll find time and time again is that the same brand names keep popping up when it comes to quality and customer satisfaction.
True Religion Brand Jeans knows all too well about how important all of the above factors are. We love the fit guide on the website where you're invited to select the type of fit and style even before you start browsing the endless selection of jeans. There's even a video of every single style which enables you to check out the movement of the model in the jeans, which we think is a pretty handy feature. True Religion was only founded in 2002, but has already established itself as one of the go-to places for quality denim. Fashionable, durable and everything else in-between, it's not surprising to learn that it has around 124 stores in the US as well as 31 others internationally.
Yep, there are a lot of things to consider when buying a pair of jeans – jeans which are so often associated with casualwear and making little effort – but we hope our guide was helpful