Last Updated on 30th April 2014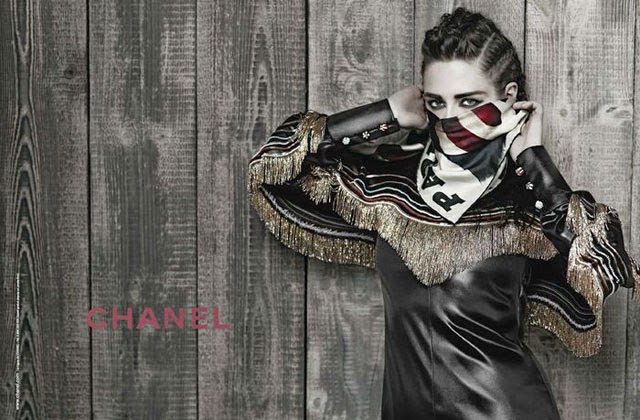 Kristen Stewart has gone from Twilight to Texas!
At the end of last year we told you the very exciting news that Twilight's Kristen Stewart had been chosen to be the face of Chanel's Métiers d'Art collection… and now it's time for the very first look at the ad campaign. What do you think of her transformation?
Kristen is sporting a killer cornrow Mohawk, and is rocking some fiercely lined eyes courtesy of the Ecriture de Chanel Automatic Liquid Eyeliner. The felt pen is great for precision as it lets you get the line as subtle or as dramatic as you want.
So how did Karl and Kirsten pick her image for the ad campaign?
"It was about finding which pieces from the collection worked on me," the actress turned Chanel muse said. "He's so good at seeing something that's not cool and making it cool.
"Like, I would have my leg in one position and he would throw a toothpick in my mouth and tell me to stop leaning on my leg and in two seconds it was like, 'Oh, there it is.' It was very cool and easy and artistic. I didn't feel like I had to push outside of myself. I didn't have to try to turn into someone else."
Karl Lagerfeld throwing toothpicks? We would have given anything to have been a fly on that wall! You can actually check out some behind the scenes footage right here, but sadly the toothpick throwing didn't make the cut
What do you think of Kristen Stewart for Chanel?