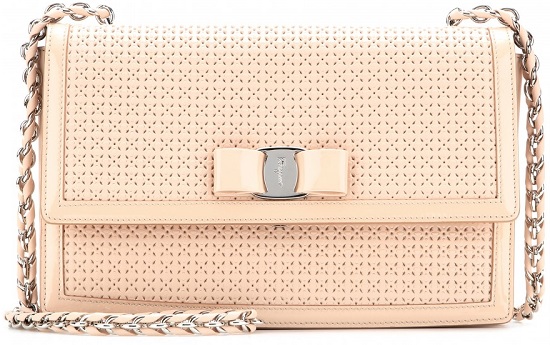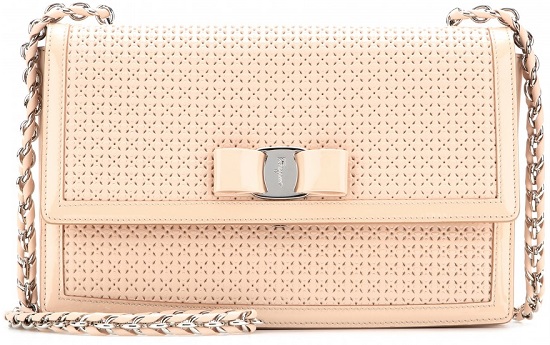 We love it because…
It stylishly touches upon our addiction for all things powdery pink and ladylike, without being overly sweet. From the pretty, perforated exterior to the signature Ferragamo bow;the Ginny bag (£729) is the ideal option to take from lazy brunches to cocktail-laced, evening gatherings.
We're saying YAY to…
Ideal day-to-night party bag: if you're looking for the perfect summer party bag, then this sweet number should do the trick. The handy shoulder strap means you can sling it around your shoulders for city strolling, or carry by hand come evening o'clock.
Easy-to-style colour: crafted from the palest pink calf leather, the Ginny bag will look perfect worn with almost your entire wardrobe. Styled with jeans, a casual tee and flats, or a summery tea dress; it's the ideal investment.
And NAY to…
Price: We do say 'investment' with caution…coughing up the equivalent of one month's rent for a teensy bag is a tough decision to make! However, it does bring to the surface your dedication to the cause; just how far are you willing to go?
Size: When paying a hefty fee for a small leather box, you'd expect your money's worth of compartments, right? Wrong. The Ginny bag features a single internal zipped pocket, reducing its carrying capacity to little more than the bare essentials. Guess your bulging purse and favourite trio of lipsticks won't be coming along to cocktails, then.
Still, tempted? Got the spare cash to burn? Shop it right here: Salvatore Ferragamo Ginny leather shoulder bag, £729, available at My Theresa.