Last Updated on 11th August 2016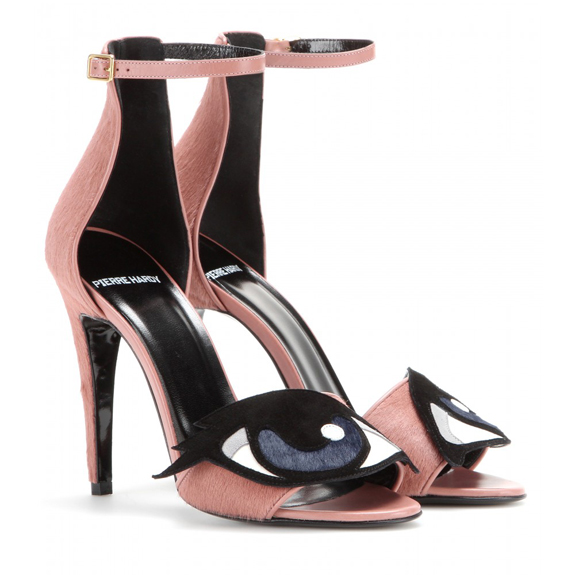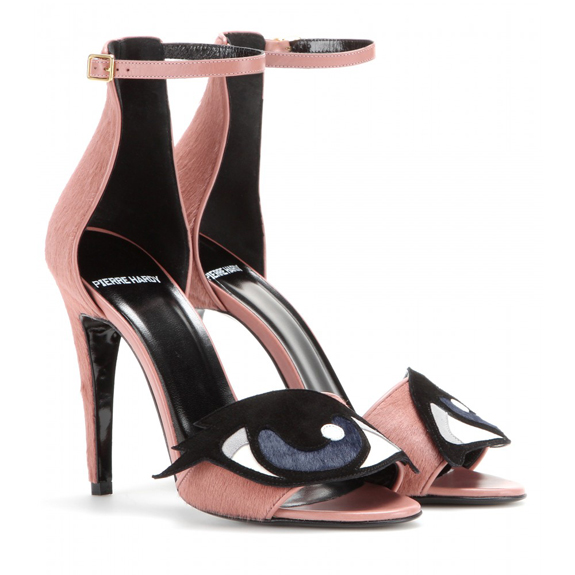 It's one of the hottest days of the year (so far) today, so naturally open toed sandals are on our footwear style agenda.
These Pierre Hardy calf hair, leather and suede sandals that are fresh from the pre-fall collection have caught our attention, but we're in two minds about whether we should spend hundreds of hard-earned Pounds on them.
If you feel the same way as us in your indecisiveness, perhaps our yay and nay tips might help you come to a decision…
Yay
Quirkiness: How many other designers – apart from Charlotte Olympia, whose shoes will set you back even more money – will put quirky little details into their shoes? The massive eye detailing on the front of the shoe is the main attraction here, and that's not something you get in normal everyday shoes. So if you want to stand out and make your outfit all about the footwear, this is the shoe for you!
Colour: We love the dreamy pink hue that these shoes come in. Sure, they are from the pre-fall collection, but the colour and open-toed nature makes them perfect for the spring/summer season too. Trans-seasonal wear is always a good thing!
The ankle strap: There's nothing worse than falling out of your pumps on a night out or while running for a taxi (realistically you're not going to want to brave the bus or the train in high heels!). Cinderella made it look glamorous but we assure you that it's a different story in the crowded and dirty streets of London. Therefore, an ankle strap to keep your foot in place is always going to be appreciated. Thank you, Pierre Hardy!
Nay
Texture: We mentioned earlier that they would be just as welcome with a spring outfit as they would in the autumn with a pair of skinny trousers, but the calf hair and suede means you can't actually wear them on a really hot day such as today. Think of all the sweating – not ideal!
Made with animal hair: These are not the shoes to go for if you don't want to wear anything made from animal hair or animals in general a' la Stella McCartney. Put the credit card down and step away from the laptop!
Not versatile: You can get away with wearing an understated pair of nude or black shoes with statement accessories again and again, as they won't be the main focus of your outfit and the people you're with might not remember them. Wear shoes with a huge eye glaring at others on a night out, and you can bet your bottom Dollar that they will be remembered the next time they come out to play. Not a problem if you like doing a Kate Middleton and recycling outfits; a big problem if you don't!