Last Updated on 10th September 2014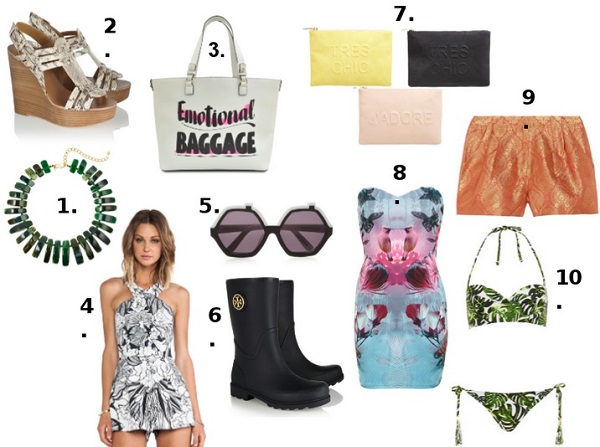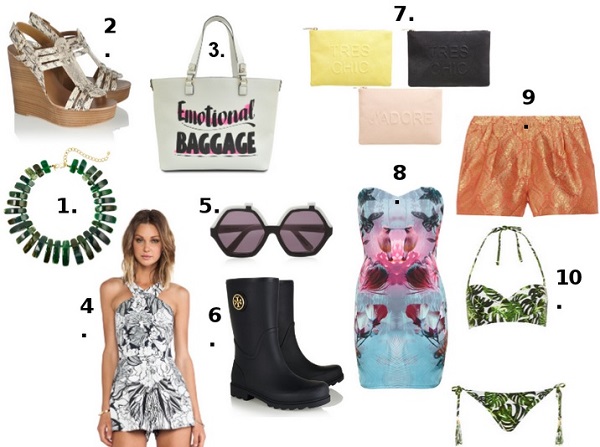 Sitting outside, strawberries in one hand and iced green tea in the other, while the sunshine beams down all around me, you can't miss the gorgeous weather: Summer is definitely here. The (very unfamiliar yet very welcome) British sunshine has been out in full force. With these must have pieces you can make sure you don't spend all your hard earned cash straight away, but still treat yourself and make sure you keep your style as cool as ever.
1. Gold-Plated Necklace by Kenneth Jay Lane – £75
This gorgeous necklace can be a statement accessory to accompany a casual daytime outfit, compliment a richly coloured evening outfit or alternatively complete your look with your favourite LBD and some gold earrings (see up and coming brand Kevia's beautiful range for some inspiration – even better, their range is all environmentally sustainable, using 100% recycled materials but still producing incredible results). This piece is perfect for the natural and exotic themes springing up in summer collections (exhibited by no.10 of our list).
2. Leslie Snake Wedge Sandals by Tory Burch – £146
Previously priced £325 (thank God for season sales) these wedge sandals are decorated with a gorgeous snake print and an almond coloured wedge, perfect for staying glamorous on the beach while sipping a skinny Mojito and soaking up the summer sun. I personally think snake print creates the perfect balance out of all of the animal prints. It's subtle and sophisticated, yet you can still easily make a statement out of it. Snake prints always creates the perfect clutch, Tory works her magic there too in her Clara Wristlet Clutch Bag from one of her past collections.)
3. Baron Von Fancy Tote by Juicy Couture- £88
Witty and practical, not only does this tote bag make the perfect bag to hold all your summer essentials for a day by the sea (including towels in which Wildfox tops the scale, with their Best Friend Towel – perfect to share, or if you just want a nice big space to lie down in and throw all your books down next to you on), but is still durable with sturdy leather material and plenty of pockets, making it interchangeable from season to season, and most importantly leaving you with enough space to *always* have enough room for all your 'essentials'.
4. Real Love Playsuit by Keepsake– £95
Natural and floral patterns are big this season and this fabulous and flattering playsuit exhibits a perfect way to incorporate it in your wardrobe. The perfect thing about this main outfit component is that it's got the wonderful floral patterning, but the entire design is monochrome. Not only does this keep you cool when you need it most, but it also gives you the option to either dress it up with bright colours or keep it simple by leaving the playsuit itself to make the statement or just keeping it monochrome (if you're going to a summer event outside such as a rooftop party or a barbecue, our next must-have on the list is the perfect pairing to keep it cool and casual). Generally your garment(s) take charge in what style the rest of your outfit will become, but what I love about this playsuit is as it's so versatile, it's easy to dress up or down depending on the event. Either way you'll know you'll always look fresh no matter the heat.
5. Roofies Round-Frame Acetate Sunglasses by House of Holland- £53
Even at full price these amazing frames are still only just touching the edge of the limit for our must-haves at £150, but luckily for us they're currently on sale, so snap 'em up while you still can! Like our last piece, these retro sunnies are a gorgeous representation of the monochrome trend and even more reason to love it. Henry Holland, as per usual, subtly uses his hints of quirkiness (check out the rest of his collection, warning – you will instantly fall in love) to create a gorgeous pair of statement sunglasses, sneaking in both monochrome and retro trends – which of course, compliment each other perfectly.
6. Maureen Rubber Rain Boots by Tory Burch – £79
It's festival season and you know what that means! Wellies. I'm convinced that everyone has an extreme love for wellies, even if it is a secret one. If you are one of those people who aren't into extravagant bold statement wellies (even at a festival) then these are perfect. With these boots you get all the luxury without any extras (unlike Hunter boots, one of my all time favourite brands, they sell basic military green designs but also have a world of different designs and colours if you want to style it up – check them all out here along with their other products). Just simple, beautiful luxury. Despite that, these divine navy boots are nice and sturdy with the element of practicality accompanying their sleek design.
7. Tres Chic/J'adore Clutch by Miss Selfridge – £16
By far the cutest little buy in our list; these sweet little clutches not only come in an assortment of colours, but also have a darling little touch of French, which seems to be a very big thing at the moment. Parisian touches, whether it's words, phrases or signature styles are popping up everywhere and is a very possible trend for A/W 2014. These clutches are a lovely little whimsical buy, at only £16 you could buy the whole set! They're perfect for that little statement and hint of French Chic; after all if you can't be in Paris, why not bring it to you for a fraction of the price.
8. Hummingbird Print Bodycon Dress by Miss Selfridge – £39
Another budget buy, but it sure doesn't look it. I absolutely adore this gorgeous strapless number, it literally shouts summer nights. The dress is only made up of two predominant colours, yet it strikes you more than a hundred would. The print absolutely makes the dress with the combination of floral print infused with nature, but it then brings out the two with bright striking pink tones that reflect off each other through the symmetry created by the printing process. Perfect for summer nights both in and out, a neon/bright pink clutch like Diane Von Furstenberg's Flirty Minaudiere and white heels would complete the look.
9. Steve Jaquard Shorts by Elizabeth and James – £110
Moroccan inspired and gold embroidered, these shorts couldn't be more of a must have for summer. Perfect for a Spanish holiday or just staying home for the summer and celebrating the sunshine, Elizabeth and James bring elegance to bright and bold coloured garments this season by using it as a base and then decorating it with intricate royal colours, and the outcome is incredible. These are a definite must have. If you want to keep it casual, pair them with Yosi Samra's Metallic Snake-Effect Sandals for a perfect match.
10. Banana Leaf Print Tassel Bikini by Topshop – £36
Last but by no means least, is your no.1 summer essential: a bikini. This one is my favourite of the season so far, and at only £36 how can you not treat yourself to this gorgeous piece? Palm, tropical and nature prints are big this season and I don't know about you but I'm completely obsessed. With wonderful light cooling colours it's perfect for summer, and makes enough of a statement on its own without being bold and garish.