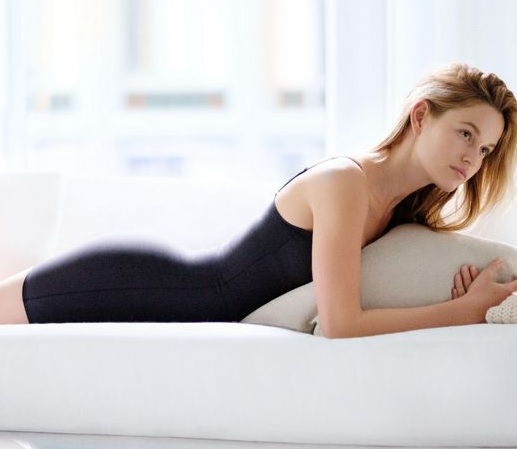 Let's all take a moment to praise shapewear. It's our saving grace when we're dying to don a bodycon dress for an event or seeking smooth lines under a form-fitting pencil skirt. And there's a shapewear style for pretty much any outfit or goal.
Whether you're looking to avoid the dreaded VPL, achieve a more sculpted silhouette or draw attention to your waist and accentuate your curves, there's a piece of shapewear that can do the trick.
But here's the thing: many of us associate shapewear with discomfort — and that definitely shouldn't be the case.
If you feel like you're sacrificing comfort just to look chic, then you have a thing or two to learn about buying these essential undergarments. Indeed, shapewear is designed to make any ensemble look more stunning, but it shouldn't be something you're dying to peel off at the end of the day. So, how do you know which styles are right for your body? And what about sizing? Are there certain features to look for?
Fret not, we've got you covered (literally). Read on for some must-know shapewear shopping tips.
Stay true to size
It might be tempting to buy shapewear in a smaller size than you normally wear. After all, it seems logical that the tighter it is, the more effective it will be — right? Except that's not actually the case. Shapewear that's too small will not only be uncomfortable, but it will also likely be unflattering as well. When these garments fight too tightly, they can cause unsightly bulges, thus totally defeating the purpose of wearing shapewear to begin with.
You should invest in high-quality shapewear that fits snugly with no excess fabric, but also doesn't cut off your circulation, either. If it's your first time shopping for shapewear or buying from a particular brand, it's a good idea to try some pieces on in person to get a sense of what your true size is. Also, while you're trying the shapewear on, remember to walk around in it, sit down, bend over, etc. to get a sense of whether you can move comfortably as well as to make sure it will stay in place.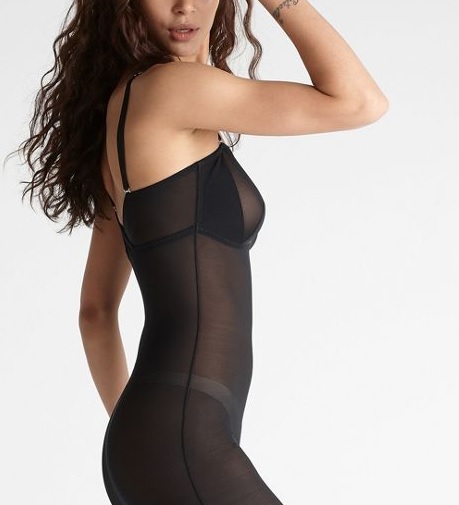 When in doubt — a one-piece wins

Given that there are so many different shapewear styles to choose from, it can definitely get overwhelming trying to find the right one for you.
As a general rule, keep in mind that you can never go wrong with a one-piece garment, like a bodysuit. With this kind of shapewear, you can give you a streamlined figure without any visible seams around your torso. That means that you can pretty much wear it under any outfit.
Not to mention, a bodysuit can also give your bust — and your bum — a lift. And who doesn't want that?
If having a perky bust line is a priority for you, look for bodysuits that feature separate cups with underwire integrated into them. While bodysuits work wonders for smoothing out your waist and hips and giving your curves a boost, a control dress or slip can be a game-changer if you're also looking for some extra shaping around your thighs.
Think high-waist
That doesn't mean that you have to stick with one-piece styles, of course. But if you do opt for separates, like a panty or skirt shaper, keep in mind that it's helpful to look for high-waist shapewear. These are less likely to give you visible lines, and as an added bonus, can smooth out your midsection. By the way — if you've never worn shapewear, a high-waist shaping brief is the perfect piece to start with, because it offers minimal coverage. Also, it's incredibly versatile, and can be worn under everything from high-rise skinny jeans to a maxi dress.
Don't overlook shaper shorts
Of course, every shapewear style has its own unique pros and cons. In weighing all of your options, definitely don't overlook power shorts — these magical little multitaskers can accomplish a whole lot, from sculpting your thighs and smoothing out your derriere, to preventing any pesky chafing around your inner thighs.
Consider a cami
While a control cami may not be ideal under a tight cocktail dress, it's perfect under an A-line frock or a tank with a full skirt. Shaping camisoles can help to achieve a sleeker torso, smoothing out your tummy, back and upper waist. As long as you aren't wearing something with a fitted skirt, you don't have to worry about that bottom hem showing.
Learn to love longline bras
Did you know that there's a bra that strikes a compromise between lingerie and shapewear? Meet the longline bra. Every woman can benefit from this multitasking piece, which not only offers incredible support for all bust sizes but also has a smoothing effect for your upper torso. These bras feature extra material that extends below the cups, meaning it doubles as a waist shaper. It doesn't get much better than that, ladies.
Perhaps the most important thing to remember with shapewear is that, contrary to popular belief, it is not intended to hide anything or make you feel like you're conforming to a particular beauty standard. Instead, shapewear is meant to highlight your assets — those features about your figure that you feel absolutely fabulous about. So, in addition to seeking out shapewear that works with your wardrobe and fits your flawlessly, be sure to look for pieces that help you to embrace your body — not try to "fix" it.