Last Updated on 23rd January 2021
Really yummy and super easy to make, this milk chocolate caramel sheet cake is perfect when you've got a chocolate craving you can't shake. Created by Edd Kimber (winner of the first series of The Great British Bake Off in 2010) this delicious recipe can be found in his fabulous book One Tin Bakes. Enjoy!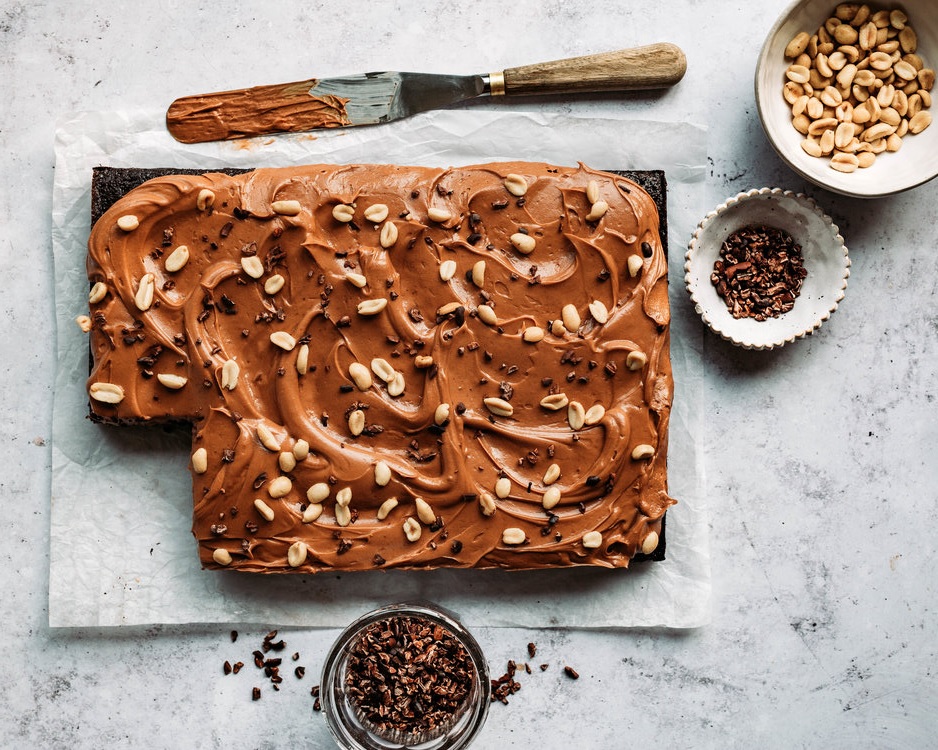 INGREDIENTS
For the milk chocolate salted caramel ganache
200g milk chocolate, finely chopped
400ml double cream
200g caster sugar
50g unsalted butter
1 tsp of flaked sea salt
1 tsp of vanilla extract
For the chocolate sheet cake
250g plain flour
75g cocoa powder
1 tsp baking powder
2 tsp bicarbonate of soda
½ tsp fine sea salt
300g light brown sugar
2 large eggs
100ml neutral-tasting oil, plus extra for greasing
225ml sour cream
225ml hot brewed coffee
To decorate
Salted peanuts
Cacao nibs
METHOD
First, make the ganache as it needs to chill before use. Place the chocolate in a large, heatproof bowl. Pour the cream into a small saucepan, bring to a simmer, then remove from the heat.
Heat the sugar in a medium-sized saucepan over a medium heat until melted and the colour of an old copper coin. Add the butter, salt and half the warm cream. Once the bubbling has subsided, you should have a smooth caramel. If not, reduce the heat and stir until smooth.
Pour in the remaining cream and the vanilla and stir to combine.
While still hot, pour the caramel over the chocolate and leave for a couple of minutes, then stir until a smooth ganache.
Cover and refrigerate for a couple of hours or until the texture of buttercream, soft and scoopable. If you leave it too long it will thicken and whipping the ganache will become tough.
Preheat the oven to 180°C (350°F), Gas Mark 4. Lightly grease the baking tin and line with a piece of parchment paper that overhangs the two long sides of the tin, securing in place with metal clips.
Sift the flour, cocoa powder, baking powder, bicarbonate of soda, salt and sugar into a large bowl and whisk to combine. Make a well in the middle, pour in all the remaining ingredients and whisk everything together just until smooth. Pour the batter into the prepared tin and spread evenly.
Bake for 25-30 minutes or until the cake springs back to a light touch and is starting to pull away from the tin's sides.
Because the cake is on the large side, it is a little harder to manoeuvre, so cool in the tin for 20-30 minutes, before using the overhanging parchment paper to lift it to a wire rack to cool completely.
Use an electric mixer to whisk the ganache for a few minutes until smooth and shiny (over-whisking can make it grainy, so err on the side of caution). Spread over the cake, then sprinkle liberally with peanuts and cacao nibs. Cut into portions and serve.
Store in a sealed container for 4-5 days.