It's always a challenge to find the perfect gift for that special someone. Jewellery is often a popular go-to, but it can be hard to navigate all the options and make sure you pick something they'll really love.
But don't worry – we've got you covered!
We've put together an edit of some of the best unique pieces of jewelry every girl will love and absolutely treasure. From layered necklaces to stackable rings, these items, let's take a look at our top picks!
Delicate Gold Chain Necklaces with Personalized Charms
When it comes to gift-giving, adding a personal touch can make all the difference. Delicate gold chain necklaces with personalized charms are a perfect example of this.
Whether it's their name, initials, or a symbol that holds special meaning to them, this is a gift that's sure to be cherished.
When choosing a personalized charm necklace, consider the style of the recipient. If they prefer dainty jewelry, opt for a small and simple charm that won't overpower the necklace.
If they like bolder pieces, choose a larger charm with intricate details. The beauty of these necklaces is that they can be worn alone or layered with other pieces for a more eclectic look.
Diamond Nose Pin
A diamond nose pin is perhaps the most unique and meaningful piece of jewelry you can give someone.
This delicate accessory exudes style, sophistication, and grace, making it a great gift for any special occasion.
It also has cultural significance in certain parts of the world – making it all the more meaningful to the recipient.
When shopping for a diamond nose pin, make sure to consider the shape of their nose as well as the style they prefer.
Smaller and more subtle options are available for those who don't want something too flashy, while larger and more ornate designs are great for those who embrace a bolder look.
Whichever option you choose, it should be chosen with care – making it a truly special and memorable present.
Statement Necklaces with Bold Gemstones or Intricate Designs
Whether it's an oversized gemstone or an intricate design made from various materials like beads and metalwork – statement necklaces instantly uplift any outfit.
When choosing a statement necklace as a gift for someone else, it's important to consider their personal style and tastes.
If they enjoy wearing bright colors and patterns regularly, then bold gemstone necklaces in similar shades would complement their wardrobe well.
On the other hand, if they prefer more classic styles and colors like black and white, choose statement necklaces in unique designs featuring these tones.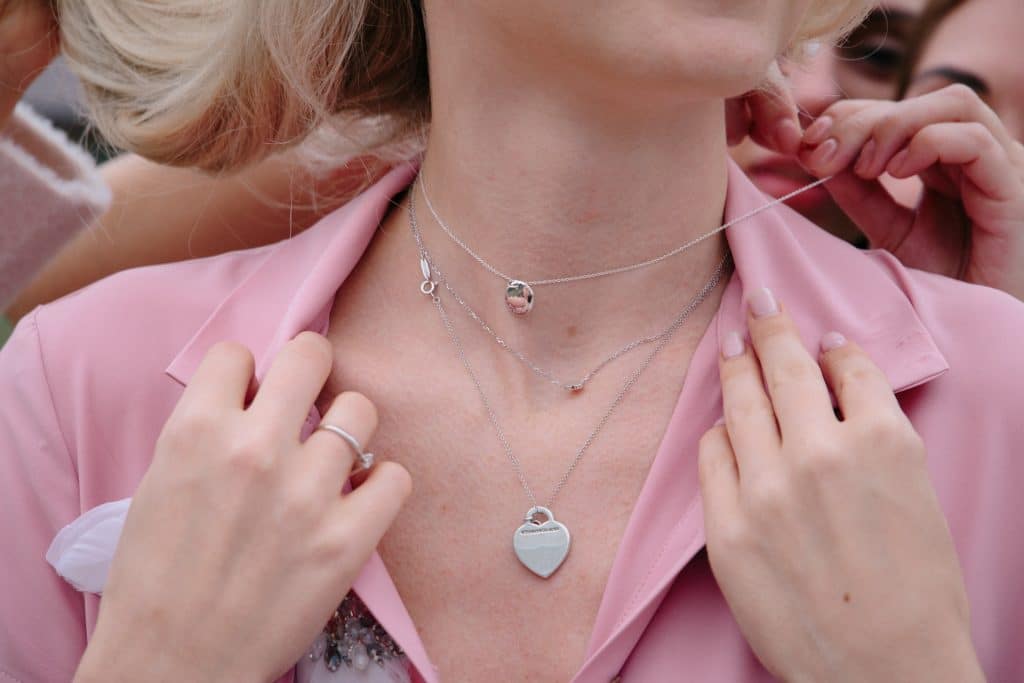 Layered Necklaces for A Bohemian Look
The bohemian fashion trend has been around for years now – which means layered necklaces have become increasingly popular as well!
This effortless style features multiple dainty chains worn together to create one cohesive accessory piece. A great way to personalize this type of jewelry is by selecting different chain lengths and styles.
For instance, pairing a shorter chain with a colorful pendant alongside longer plain ones is an easy way to create a layered necklace that speaks to the recipient's personal style. The beauty of this trend is that it's versatile enough to be worn with casual or more formal outfits for any occasion.
Hoop Earrings in Different Sizes and Materials
Hoop earrings have been around for centuries and continue to be popular today because of their versatility. Hoops can be simple or intricately designed based on personal preference.
They also come in different sizes and materials such as gold, silver or even acrylic. A pair of thin gold hoops adds sophistication to any outfit while larger ones make a more dramatic statement.
Silver hoops are perfect for those who prefer cooler tones or want something more casual while colored acrylic hoops are ideal for achieving an unconventional look.
Ear Cuffs For A Trendy And Edgy Option
Ear cuffs have become increasingly popular over recent years as they offer an edgier alternative to traditional earrings.
These unique pieces wrap around the ear rather than dangle from the earlobe, making them a great option for anyone who doesn't have pierced ears.
Ear cuffs come in various styles ranging from simple metal bands to more elaborate designs with gems or chains.
For those who want to make a statement, ear cuffs with multiple chains or spikes create an edgy look while more delicate styles provide a subtle pop of color or sparkle.
Ear cuffs also come in different materials such as gold, silver and even rose gold. They can be worn alone or paired with other earrings for a layered look that is sure to turn heads.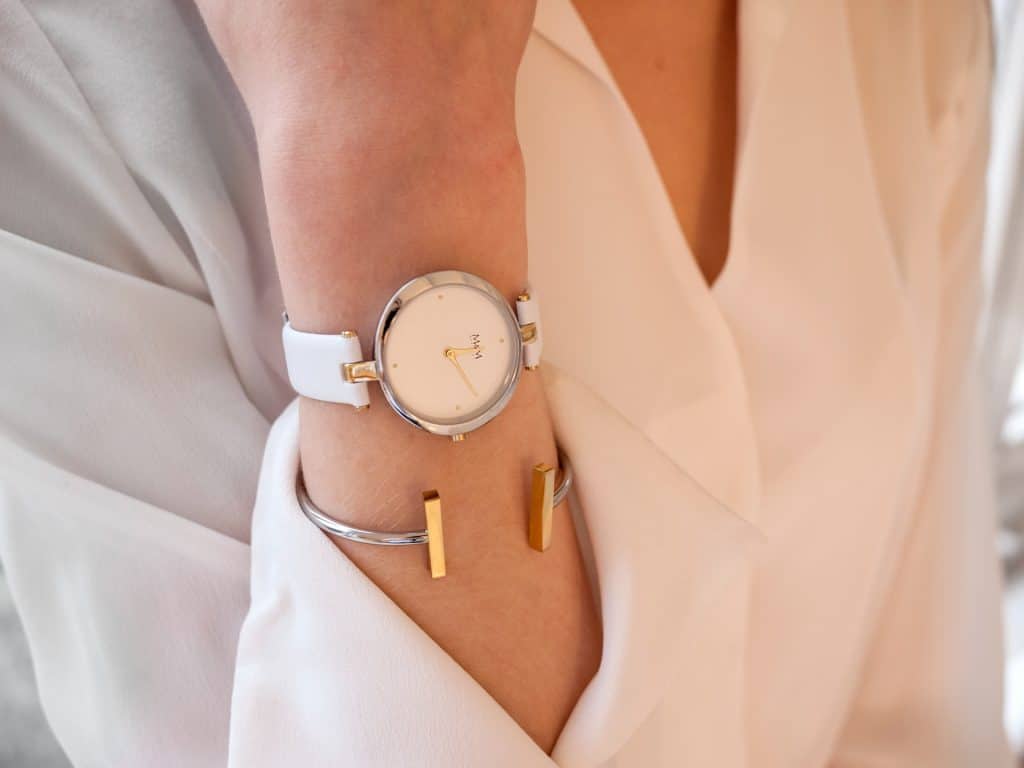 Charm Bracelets
Charm bracelets with meaningful symbols or initials are a classic option that never goes out of style.
The great thing about charm bracelets is that they can be customized to reflect the recipient's personality, interests, and values.
Whether it's a charm in the shape of a dog bone for an avid animal lover or a heart-shaped charm with her initials on it, this gift is sure to be cherished.
Stackable Bracelets
Stackable bracelets are another great option.
With so many different colors and textures available, you can mix and match to create a unique look. Whether it's braided leather bands or dainty gold chains with gemstone accents, there's no wrong way to stack bracelets.
Plus, they're versatile enough to wear every day or dress up for special occasions.
Birthstone Rings for a Personalized Touch
If you're searching for a sentimental and personalized gift, birthstone rings are a great option. Each month is represented by a different gemstone, so you can choose the stone that corresponds with your loved one's birth month. These rings can be simple and delicate, or they can feature multiple stones in an intricate design.
Either way, they make for a meaningful and thoughtful gift. Besides being an excellent gift option, birthstone rings have become fashion statements in themselves.
It's common to see people wearing multiple birthstone rings on different fingers. They even stack together with other types of rings creating quite an impressive look overall when done correctly.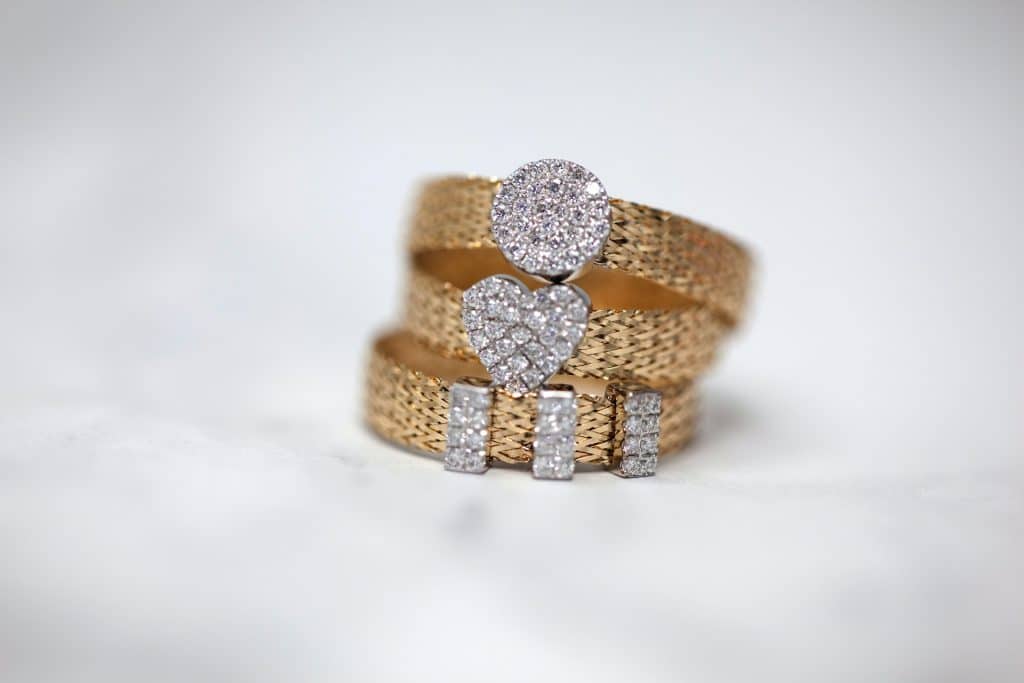 Stackable Rings with Dainty Bands and Gemstones
If your recipient likes jewelry that is understated yet still beautiful, consider gifting them some stackable rings with dainty bands and gemstones.
These pieces are perfect for layering on the same finger or spreading across multiple fingers for a more eclectic look.
These dainty bands often come adorned with small diamonds or other precious stones like amethysts, aquamarines among others which add to their beauty.
The versatility of stackable rings truly makes them unique because they allow the wearer creative license over how they wear their pieces without tarnishing the original design intent of each ring itself. Plus, since these bands are thin enough to stack together comfortably but sturdy enough to wear daily without fear of losing any stones along the way.
Bold Cocktail Rings with Colorful Stones or Intricate Designs
For the girl who loves to make a statement, bold cocktail rings are the perfect gift. These rings feature colorful stones or intricate designs that are meant to be noticed.
They come in a variety of shapes and sizes, from oversized gemstones to unique geometric shapes. The beauty of these pieces is that they can be worn alone as a statement piece or paired with other jewelry depending on the occasion.
Bold cocktail rings typically steal the show when worn correctly. Their designs are so intriguing that they naturally draw attention and admiration from everyone around them while complimenting other jewelry pieces subtly rather than competing with them for attention