Are you on the hunt for a stylish and comfortable dress that'll turn heads? Look no further! We've put together an amazing list of African print maxi dresses just for you!
These maxi African dresses are perfect for anyone looking to add some vibrant and bold flair to their wardrobe! They're available in a range of styles, colors and prints, so you can effortlessly match your unique style.
We've cherry-picked the best maxi African print dresses that prioritize both quality and style, making the selection process easier for you.
Whether you're headed to a wedding, prepping for vacation, or just want something new in your style rotation, we've got you covered!
9 Of The Best African Print Maxi Dresses
1. African Women Print Dashiki Dress One Shoulder Long Maxi Dress
Whether it's a wedding or a cocktail party, this African print maxi dress is perfect for any formal occasion.
With its eye-catching pattern and featuring a one-shoulder design and hidden zipper for effortless style, you're guaranteed to stand out in any crowd in this beauty of a dress.
Due to the detachable waist train, you might experience limited mobility, and the dress material could be snug since it doesn't have stretch.
Also, keep in mind that the colour may appear slightly different from the picture.
Don't worry about the sizing- the chart in the photos is accurate, but if you have any questions, the seller is more than happy to make bespoke adjustments according to your measurements.
SHOP NOW
2. Ankara Floor Length Dress African Print Dress V-Neck Swing Boho Summer Dress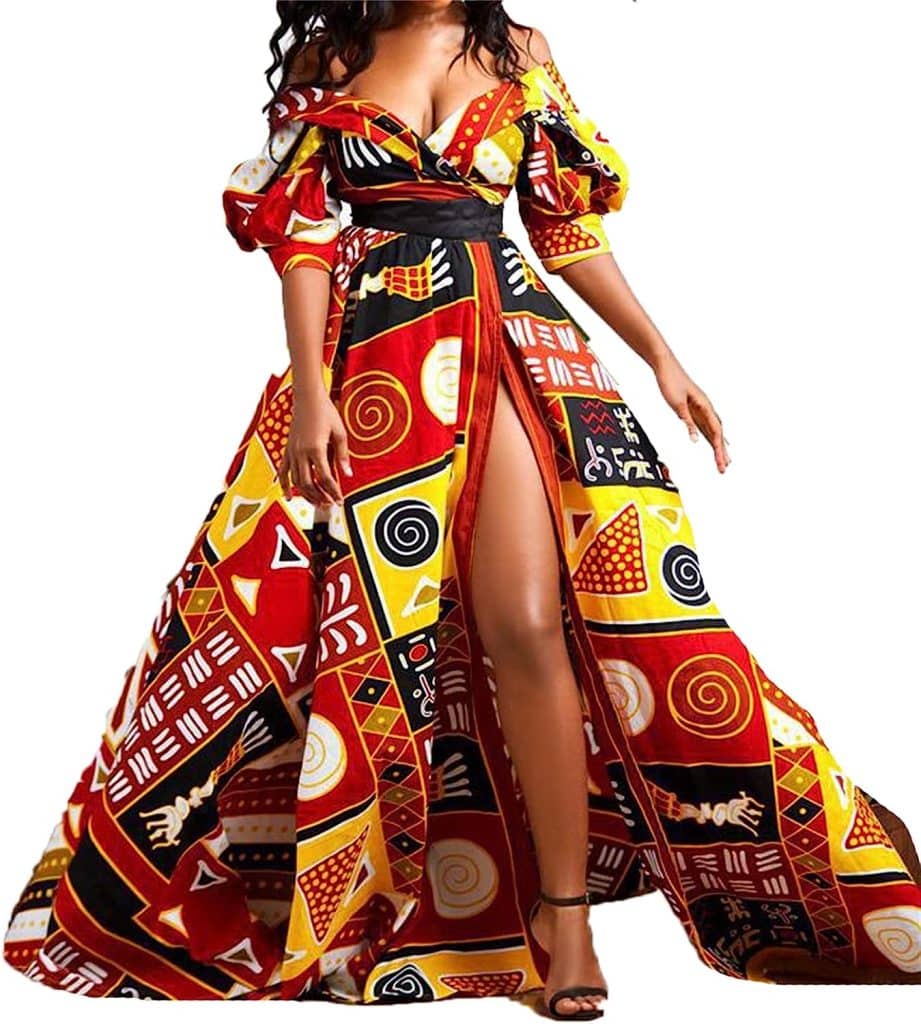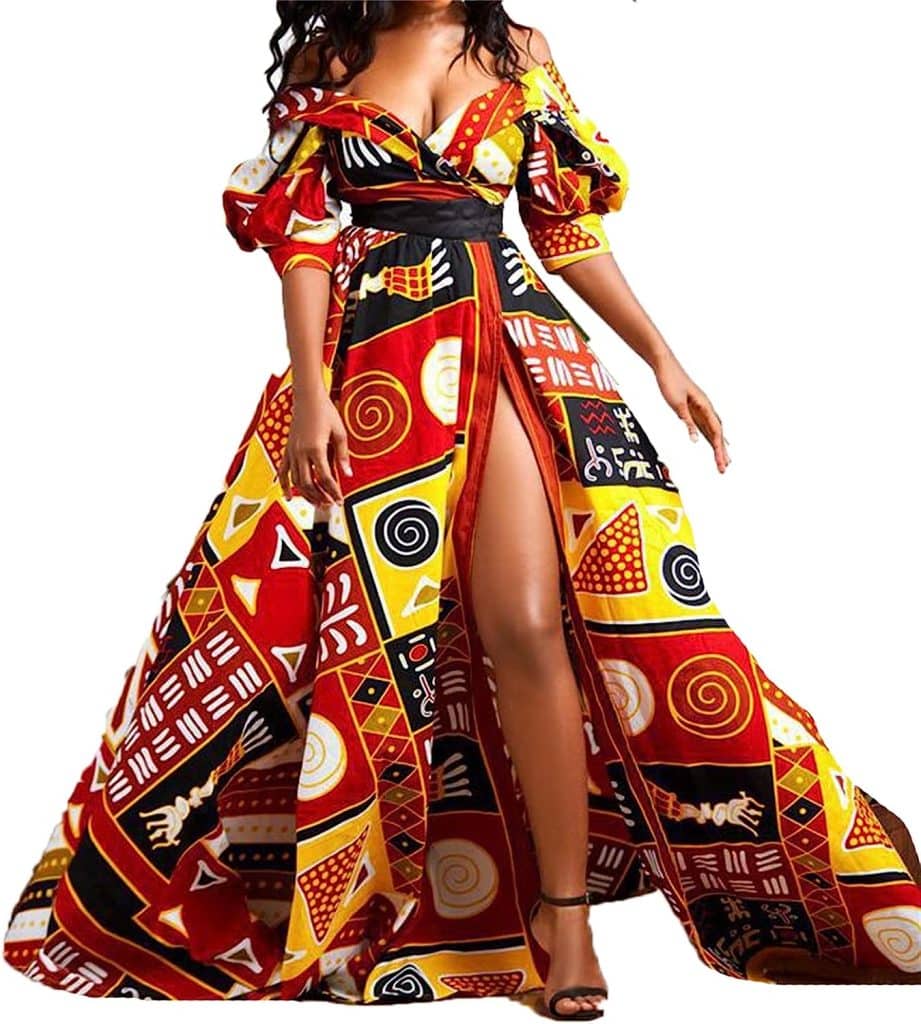 This boho summer African print dress is the perfect combination of elegance and comfort. With a versatile swing style, and it's soft and feels great to wear.
Plus, the split and V-neck design adds just the right amount of allure. With lots of sizes to choose from, including plus size options, there's a perfect fit for everyone.
Sure, the neckline is quite low, but hey, if you're comfortable showing some cleavage, you'll love it!
If that's not your style, then it's probably best to give this dress a miss.
SHOP NOW
3. SHENBOLEN Women African Print Maxi Dress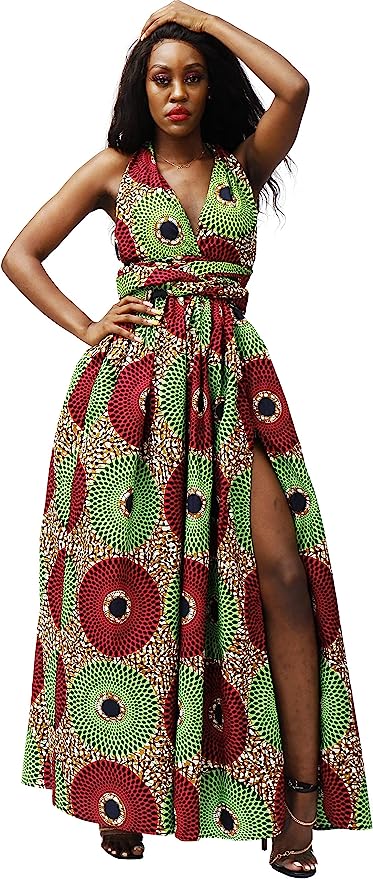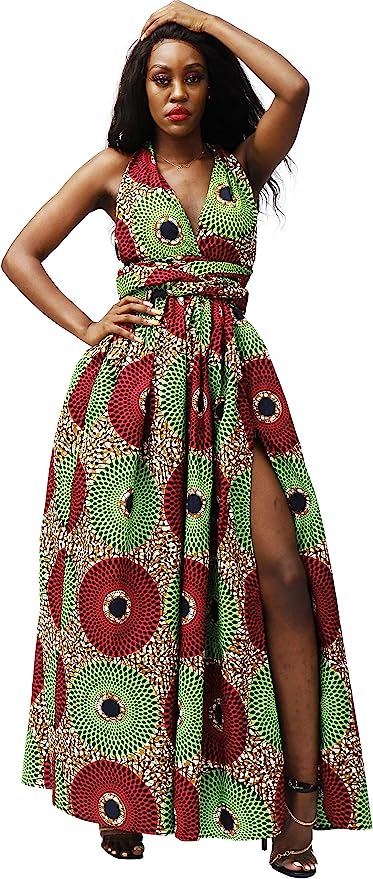 The SHENBOLEN Women African Print Maxi Dress is a total showstopper – a real conversation starter!
Handmade with 100% African wax cotton, this dress is a true work of art that's sure to liven up your wardrobe.
Of course, there are a few things to bear in mind. The non-stretchy fabric may not suit every shape, and the material isn't all that breathable, so it might not be ideal for hotter weather.
But if you want to add a unique and versatile dress to your wardrobe, then it's worth snapping up this stunning dress.
SHOP NOW
4. Liliam African Print Maxi Dress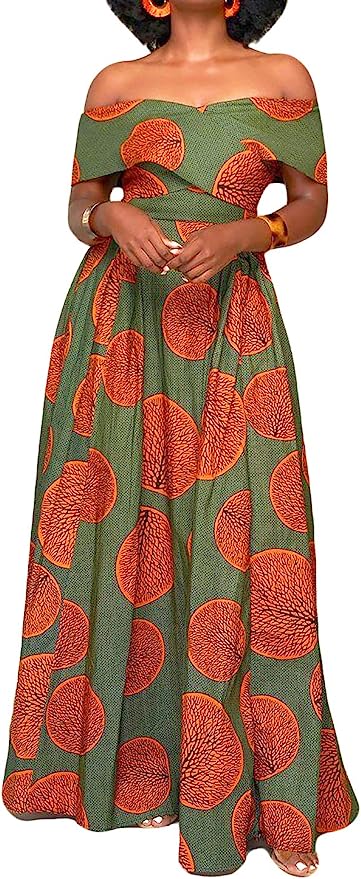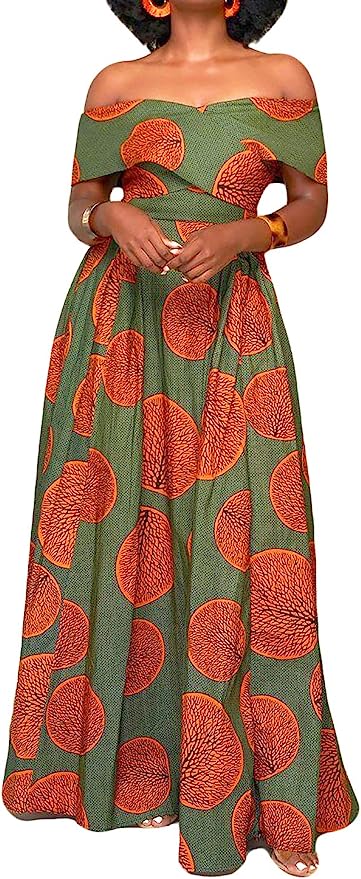 Whether it's for parties, festivals, weddings, or just your everyday wear, this elegant dress is perfect.
This gorgeous number is lightweight and features an elegant print, off-shoulder design, half-puff sleeves, big hemline, pleated shape, and a comfy elastic waist that can be easily adjusted.
One thing to note, though, the sizes run a bit big, so it's better to order one size smaller than usual.
SHOP NOW
5. Naimo African Print Maxi Dress
The Naimo African Print Maxi Dress is a comfy and versatile outfit that you can rock on any given day.
The lightweight fabric and vibrant print make it a perfect choice for summer events, while the off-shoulder design and front split adds a touch of class.
Plus, you don't have to worry much about taking care of it since it's machine washable or dry cleanable.
Although if you're a bit short in height, the dress could be a tad too long, and you might need to get it altered.
SHOP NOW
6. OLIPHEE Women's African Boho Dress


So, this dress is perfect for anyone who wants to look stylish, comfy and prepared for different occasions.
The lightweight and breathable material makes it a great choice for sunny days – an excellent addition to your wardrobe without killing your budget.
You can dress it up for formal events or make it casual for hanging out with your friends. But for some, it may be a concern that the dress isn't stretchy enough, and the coverage for larger boobs isn't great.
Also worth noting are the straps – they may feel long and fiddly, which can make styling the dress a bit challenging.
SHOP NOW
7. VIVICOLOR African Print Maxi Dress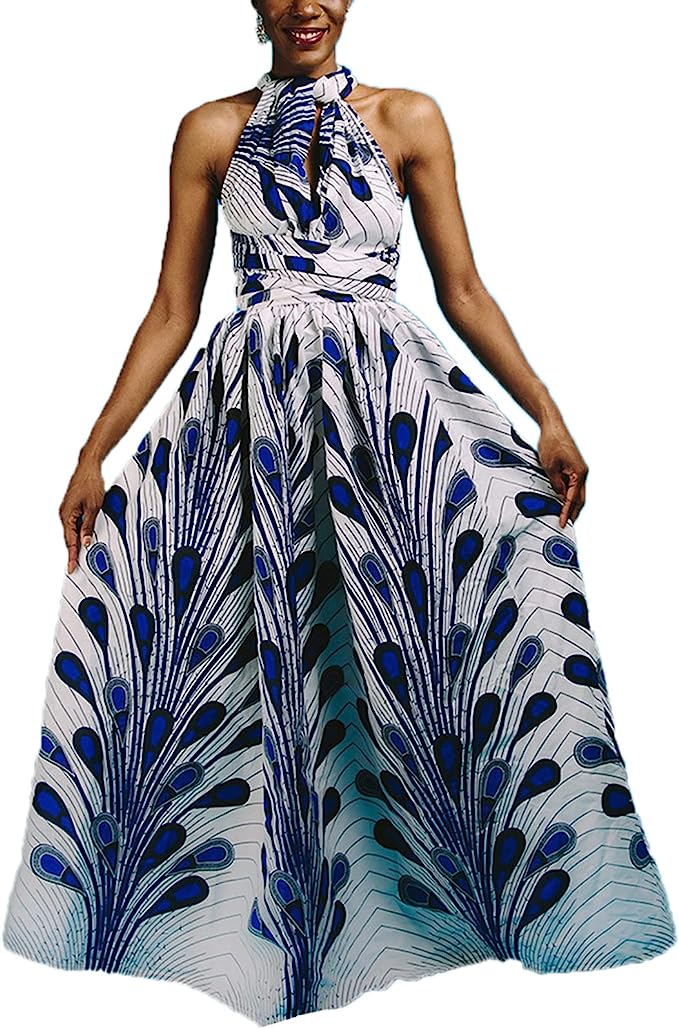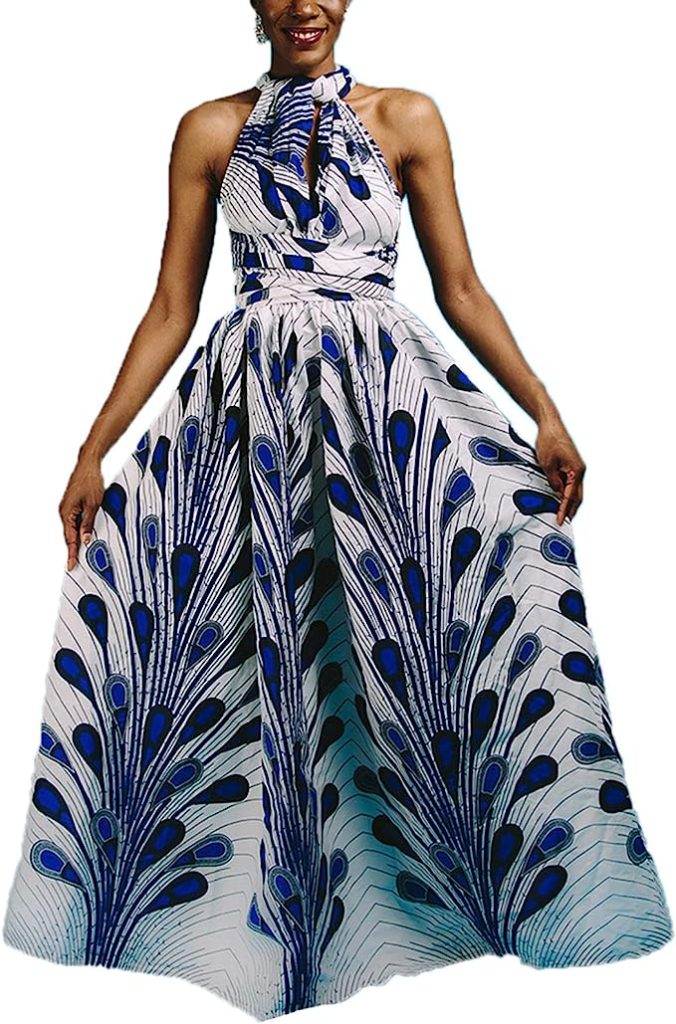 This is probably one of our faves in the edit. This halterneck African print maxi dress has a loose and relaxed fit that's perfect for those scorching days.
But that's not all – it has a multiway design, meaning it can be worn in different ways depending on your style and the occasion.
You can tie it at the waist for a more fitted look or choose to leave it loose – whatever you're feeling that day! It has a flirty split design that adds a touch of style, although it may not work for everyone.
SHOP NOW
8. VIVICOLOR Fashion African Bodycon Dresses One Shoulder Floral Print Dashiki Dress Ankara Puff Sleeve Long Pencil Maxi Dress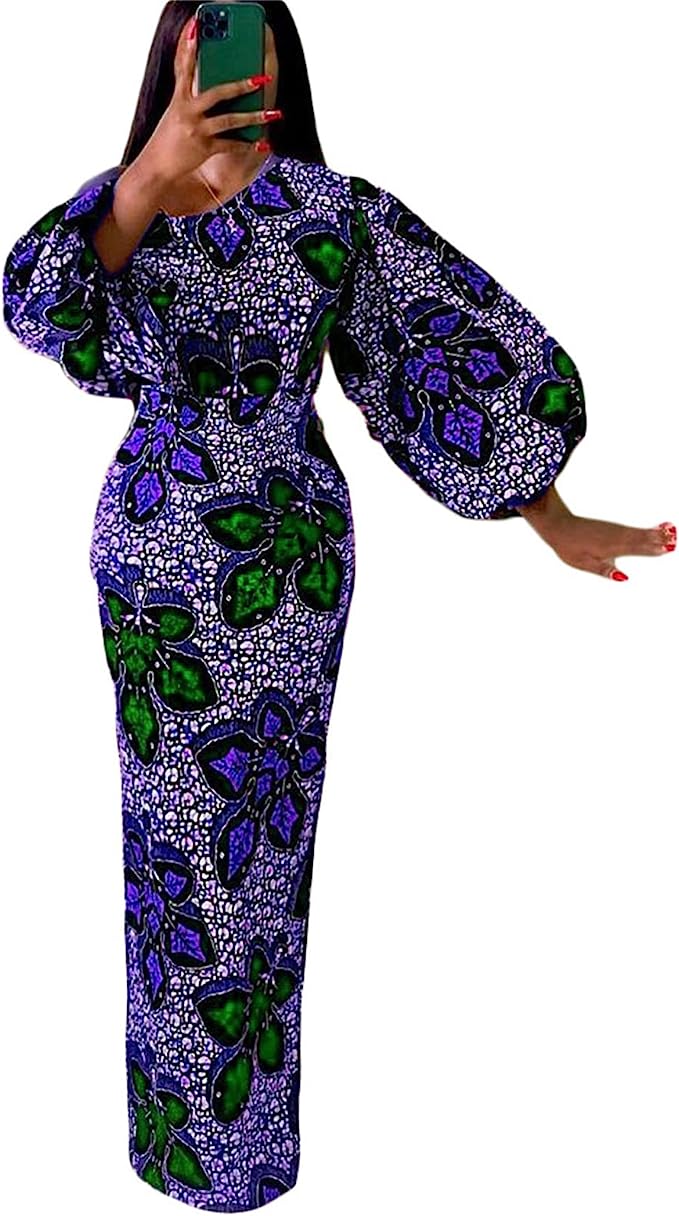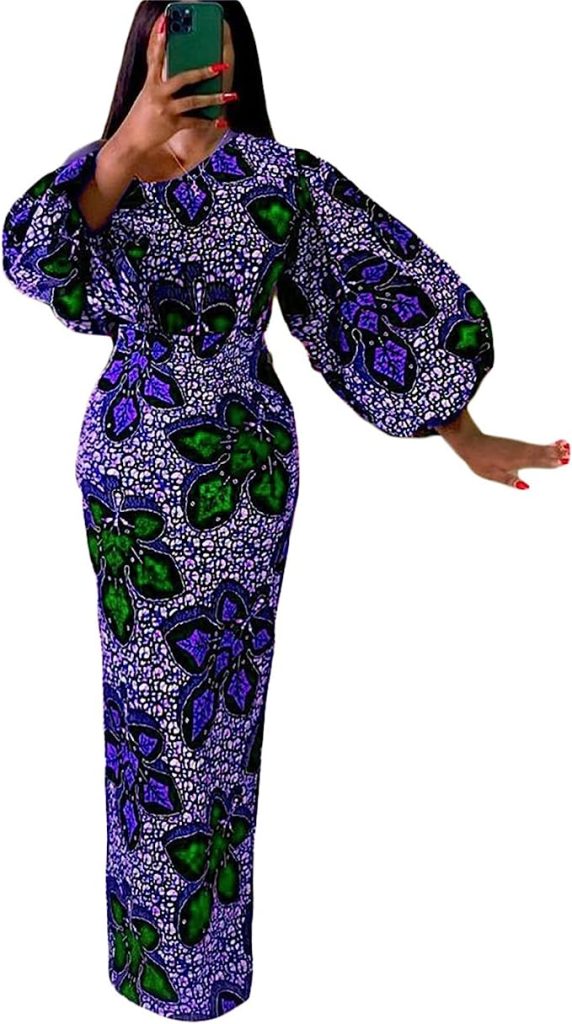 The VIVICOLOR African Bodycon Dress is a showstopper! Made with high-quality fabric, it'll stay in your wardrobe for years to come.
The vibrant African boho print is perfect for weddings or parties. They even have a range of sizes for all body types!
Just be aware that its casual and relaxed style may not be appropriate for very formal events, and it might be too long if you're on the shorter side.
Plus, you'll have to hand-wash it, which can be a bit of a chore, but the stunning style is so worth it!
SHOP NOW
9. MANYMANY African Print Maxi Dress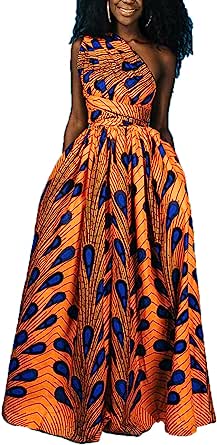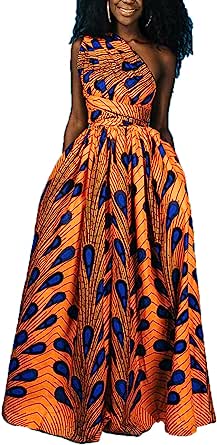 The MANYMANY African Print Maxi Dress is a real showstopper with its eye-catching African print design – you'll be the talk of the town! Plus, there are so many ways to wear it – halter, strapless, or one-shoulder – you can switch things up for any occasion!
Caring for the dress is a breeze, and you can pop it in the machine without worrying about losing its shape or colour.
Keep in mind that it runs small, so it's best to order a size up for a comfy fit.
Also, the design is more casual, so it may be better suited to a less formal event. And if the split is too daring for your taste, just wear a pair of shorts or leggings underneath – problem solved!
SHOP NOW
What to look for when buying an African print maxi dress
When it comes to buying the best African print maxi dresses, there are a few things to keep in mind to ensure that you get a dress that you will love and that will last.
Choose a good quality material
African print dresses are traditionally made from high-quality cotton like Ankara or cotton-blend fabrics, designed to be comfortable and long-lasting.
These fabrics are typically sourced and woven in a way that celebrates the authenticity of African design with breathable and easy-to-care-for cotton.
For the ultimate quality, check the weave density, a tighter weave generally indicates a better quality fabric.
The fabric should also feel soft to the touch, and the colors shouldn't look like they'll fade as soon as your dress is washed.
Make sure it's the right fit
The fit of the dress is equally important. Choose a dress that fits well and flatters your body shape. African print maxi dresses come in various styles and sizes.
Many are loose and flowy, making them comfortable and perfect for warm weather. If you prefer a more fitted style, consider dresses with a defined waist or a wrap style that can be adjusted to your body.
Also, consider dresses with adjustable straps or belts for a better fit. Always check the sizing chart provided to get a fit that's right for you.
Choose a design and print that reflects your style
The design and print of the dress contribute to its uniqueness. African prints come in a variety of colors and patterns, so choose one that reflects your personal style.
Some popular designs include maxi, wrap, and off-shoulder dresses, and popular prints include Ankara, Kente, and Dashiki.
How to style an African print maxi dress?
When styling your African print maxi dress, consider adding accessories to complete the look. Statement earrings or a bold necklace can complement your dress nicely.
You could also consider a hat or a clutch bag for a unique touch. Pair your dress with flat sandals, wedges or sneakers for a casual daytime look, or dress up with heels for a more formal occasion.
Want to keep your look on point? Why not match your accessories to the colours in your dress? And to really elevate your style, try adding a belt to cinch your waist.