Jeans shopping. Does hearing those two words make you want to run for the hills?
We totally understand.
Finding jeans that fit just right can feel utterly impossible. You squeeze into the latest trendy pair, contort yourself to get the zipper up, and think this time will be different.
Then you see your reflection – camel toe, ridiculous muffin top, and can barely sit down without cutting off circulation.
Disheartened, you peel them off and add them to the "jeans I'll diet to fit into" pile in the back of your closet.
The thing is, ill-fitting jeans usually aren't your fault. Women's bodies come in a huge variety of shapes and sizes that change over time.
Yet the jeans industry pretends there's a "perfect" mold all women should conform to.
But there is hope. While the deck seems stacked against us, there are ways to beat the system and find your dream jeans.
The key is learning tips and tricks to outsmart slippery sizes, flatter your shape, and zero in on fits made for curves.
Don't waste another minute being uncomfortable in jeans that don't fit you right.
Follow these 8 tips to find jeans that fit you perfectly every time.
1. Know Your Body Type
The first step to jeans that fit is knowing your body shape. Are you straight or curvy? Do you carry extra weight in your hips, thighs or tummy?
Once you identify your body type, you can seek out jeans designed to flatter your figure.
Hourglass babes, look for jeans with contoured waistbands to cinch your middle and balance out your curves.
Skinny girls can opt for relaxed and slouchy fits to add some shape. If you're more straight up and down, go for a mid or high-rise to give you a waistline.
Curvy gals, choose jeans with stretch denim and a tapered leg to skim over those hips and thighs.
Not sure what shape you are? Stand in your underwear in front of a mirror and identify where you're widest and where your body narrows.
Or compare yourself to an online body type guide. Knowing your shape makes jean shopping a breeze!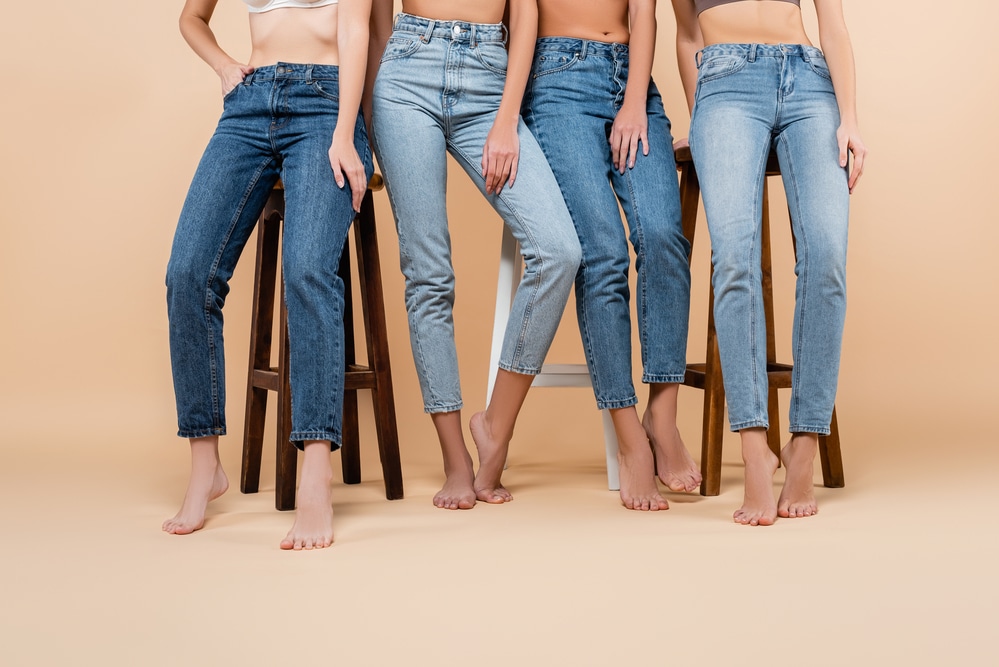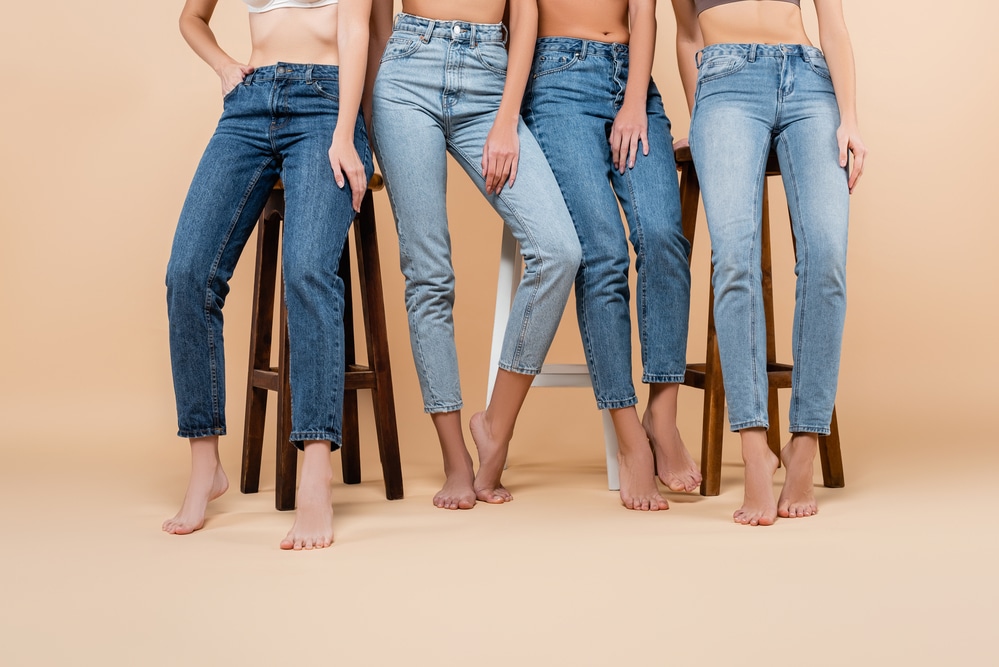 2. Know Your Measurements
It's crazy how much our bodies can change over time. Even if you've been the same size for years, it's worth measuring yourself before buying new jeans.
Knowing your exact measurements helps you find jeans that fit perfectly at the moment, not how you used to look.
Grab a tape measure and record these numbers:
Waist: Measure around the narrowest part of your waist.
Hips: Measure around the widest part of your hips.
Inseam: Measure from your crotch to where you want the hem to hit.
Front rise: Measure from the crotch seam to your waist.
Thigh: Measure around the fullest part.
Once you know your measurements, compare them to the size charts of any jeans you try on.
Because sizes vary between brands, consulting the chart helps you get the right fit.
No more guessing your size or trying to shimmy into jeans that are uncomfortably snug!
3. Know Your Jean Style
Jeans come in a variety of styles, from barrel leg to boyfriend jeans, each style is designed to flatter different body types.
So, before you even step foot in a fitting room, decide what works best for your shape:
Bootcut: Flares gently out from knee to hem, balancing curvy hips and thighs.
Straight leg: Fitted through the hip and thigh with straight silhouette from knee to ankle. Flatters those who are straight-shaped or athletic.
Skinny: Fitted throughout the leg. Elongates straight or athletic builds but can overwhelm curves.
Boyfriend: Relaxed through the hip and thigh with a rolled cuff. Ideal for masking wider hips and adding curves.
Wide leg: Flowy, flared legs add balance to a heavier top half.
Once you've identified your best style, you can zero in on the jeans that will fit you like a glove!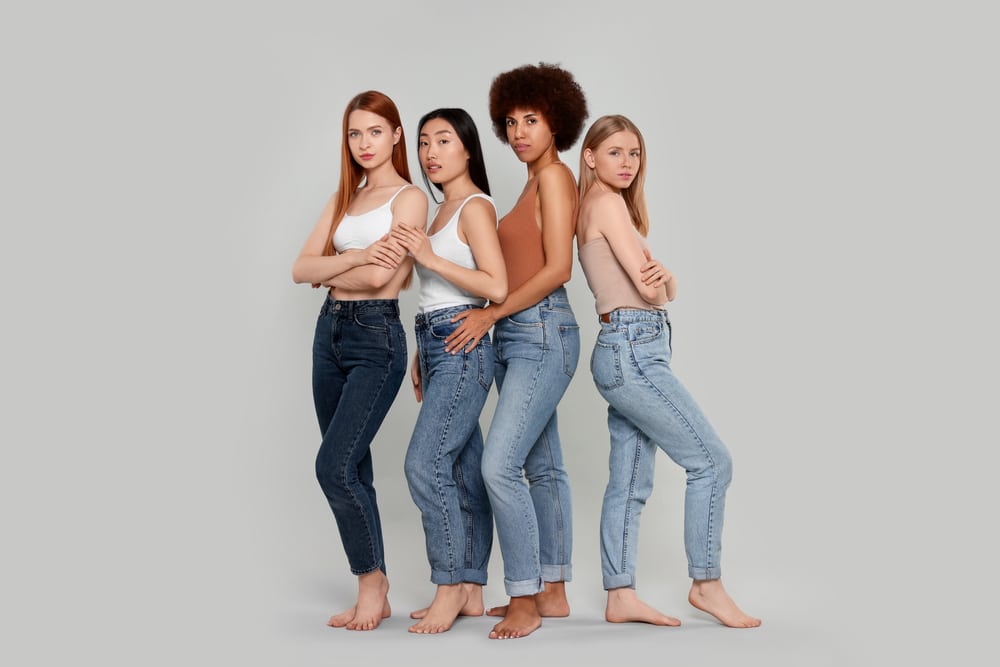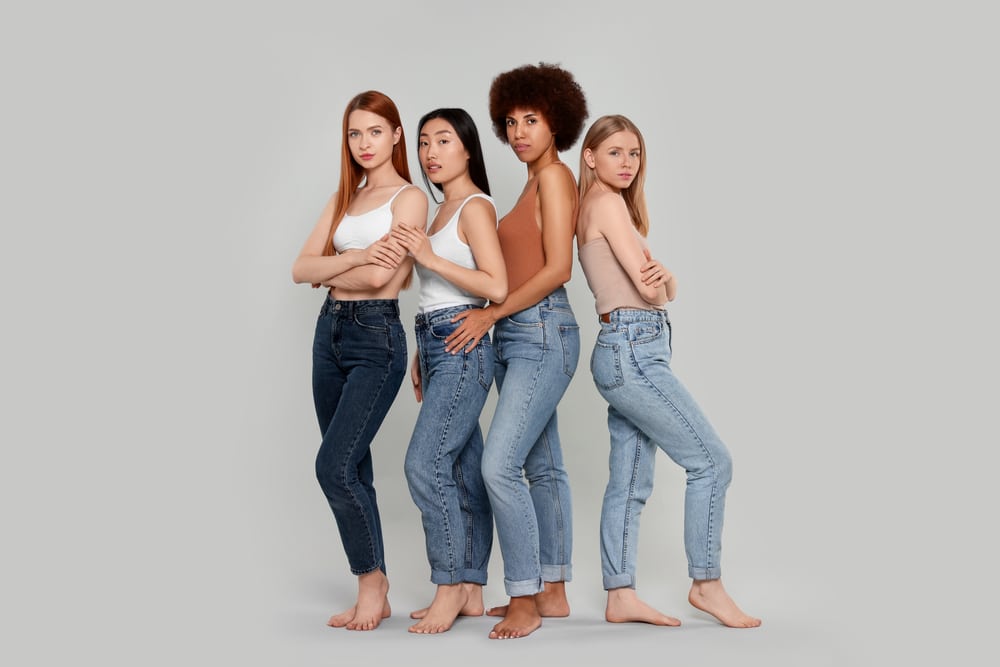 4. Focus On Stretch
Jeans tailored specifically for curvy figures feature added stretch to prevent gapping, squeezing and muffin-topping.
Stretch material contains at least 2% spandex that allows the denim to flex with your body's movements. Brands like Good American, American Eagle and Old Navy offer stretch skinnies, bootcuts, and more.
If you don't need extra stretch, make sure the jeans you try on at least contain 1% to 2% spandex.
This tiny bit of stretch makes denim more comfortable and flexible. Don't settle for 100% cotton jeans – you want some wiggle room!
5. Get Waist-Focused Details
Certain jean details can make all the difference in how jeans fit your waistline. Look for these tummy-friendly features:
Contour waistband: Curves in at the sides to cinch you in.
Deep waistband: Starts higher in front and back for more coverage.
Wide waistband: Distributes flab more evenly and prevents muffin-top.
Hidden panel: Extra inner layer smooths and slims the tummy.
Medium to high rise: Prevents embarrassing crack sightings when bending over!
Jeans with a contoured, smoothing waistband and medium to high rise are your BFF if your middle is a trouble spot.
6. Sit, Squat, and Stomp
The jeans that fit great standing up aren't guaranteed to feel comfortable moving around in. Before committing to a pair, get active in the fitting room!
Sit down: Do the waistband and rear rise stay in place or slide down? Are they uncomfortably tight when seated?
Squat: When you crouch down, do the inner thighs pinch or feel too loose and baggy?
Stomp: Jump up and down to make sure the jeans don't slip down. Also check for loose baggy knees or ankles.
Putting jeans through these tests ensures they'll be comfy all day long, not just for the 30 seconds you try them on standing!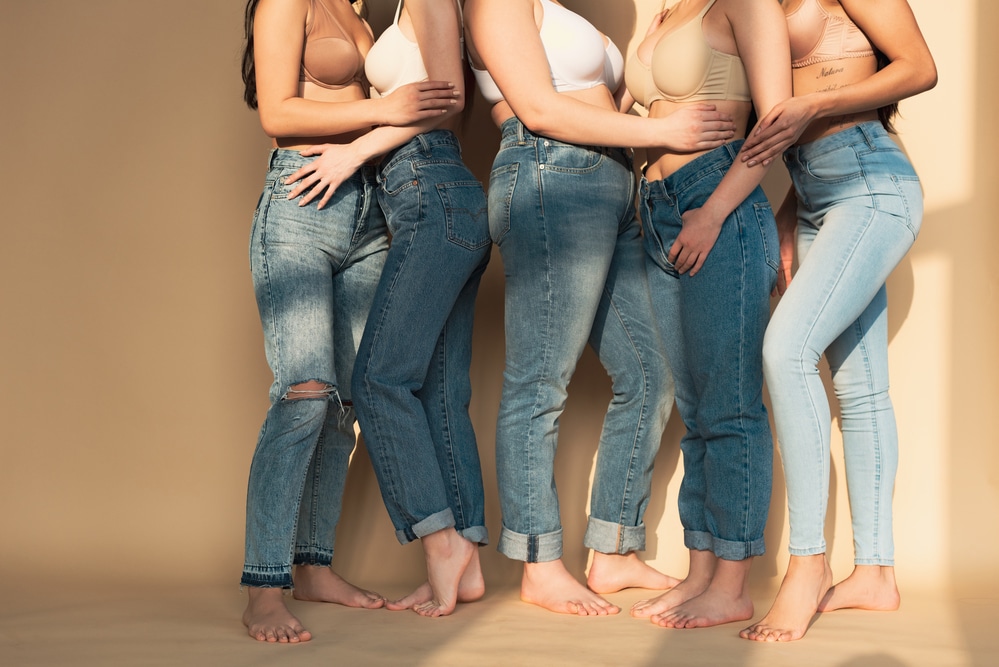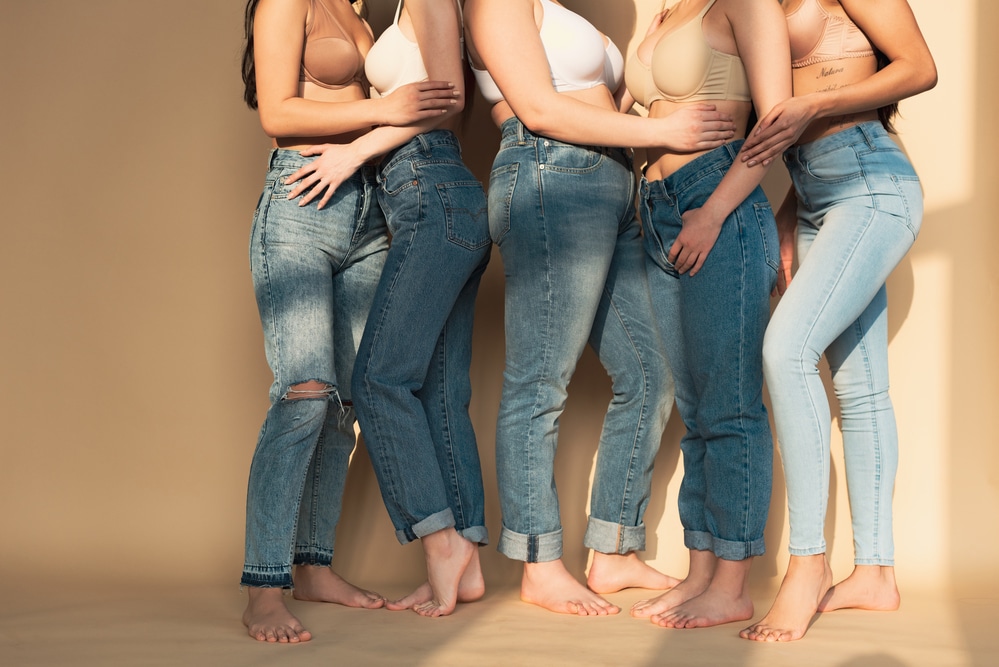 7. Leave Room To Lunch
Jeans can fit differently based on the time of day because our bodies expand and contract. Shopping for jeans right after a meal means you need a little extra room!
Look for a waistband you can fit two fingers into and thighs with some space to spare. Waistbands should never dig into your belly – especially after a Chipotle burrito bowl.
You also want jeans with at least 1% spandex to grow and recover with your body throughout the day. Pure 100% cotton has no stretch or forgiveness.
Don't let the number on the tag psyche you out. Focus on the fit and comfort even if you have to size up. Who cares about the number if the jeans make your booty look bangin'?
8. Don't Forget To Read Reviews
Tap into the collective wisdom of the internet before buying jeans online! Reading reviews from real people who tried the jeans on can give insight into how the fit really is.
Here's what to look out for in reviews:
"Size up if curvy"
"Waist runs small"
"Legs too tight"
"No stretch"
"Baggy in the knees"
Let those who came before you guide the way to jeans that fit YOUR body. Their feedback can save you from the hassle of returns!