Barrel leg jeans are the new must-have style that's taking the fashion world by storm.
With their signature wide-leg design that tapers at the ankles, they create an irresistibly unique, barrel-like silhouette.
What's not to love? Barrel jeans are incredibly flattering, because of their tapered nature, they create a longer line from the waist down to the ankle.
This helps make your legs appear much slimmer than regular straight-leg jeans or mom jeans would – making them perfect if you who want to accentuate or even hide certain features depending on how you wear them!
If you're thinking of updating your denim wardrobe with a couple of barrel leg jeans, we've compiled everything you need to know.
Get ready to find the perfect pair, style them like a pro, and discover the best options for every body shape.
How to find the perfect pair of barrel leg jeans?
Barrel leg jeans offer a lot of versatility., and while they're typically considered more casual than slim-fit denim or skinny jeans, they can be dressed up too and wearing them is easy when you know how!
Here's what you need to consider before snapping up a pair!
Choose a Fit That Flatters Your Figure
Not all barrel leg jeans look or fit the same; some have wider legs than others, narrow cuffs, and there's high waist or mid-rise options.
Before you buy a pair make sure they fit comfortably around the hips and waist with just enough room in the thigh area to flatter your figure. If they're too tight, they will not be comfortable or look good.
Pick a Color and Wash That Suits You
From dark and sultry to light and playful, barrel leg jeans come in an array of colors and washes. Pick one that matches your personal style and you'll be turning heads everywhere you go.
Choose the right length
If you're short or petite, look for a cropped jean or a shorter length to reduce the pooling at your feet and ankles. If you're tall, opt for a longer length to keep the proportion balanced.
Invest in a quality pair
Look at the labels to make sure they're made from a good denim blend that won't lose its shape after a few wears. Higher quality materials and construction will ensure you get the most out of your new jeans for years to come!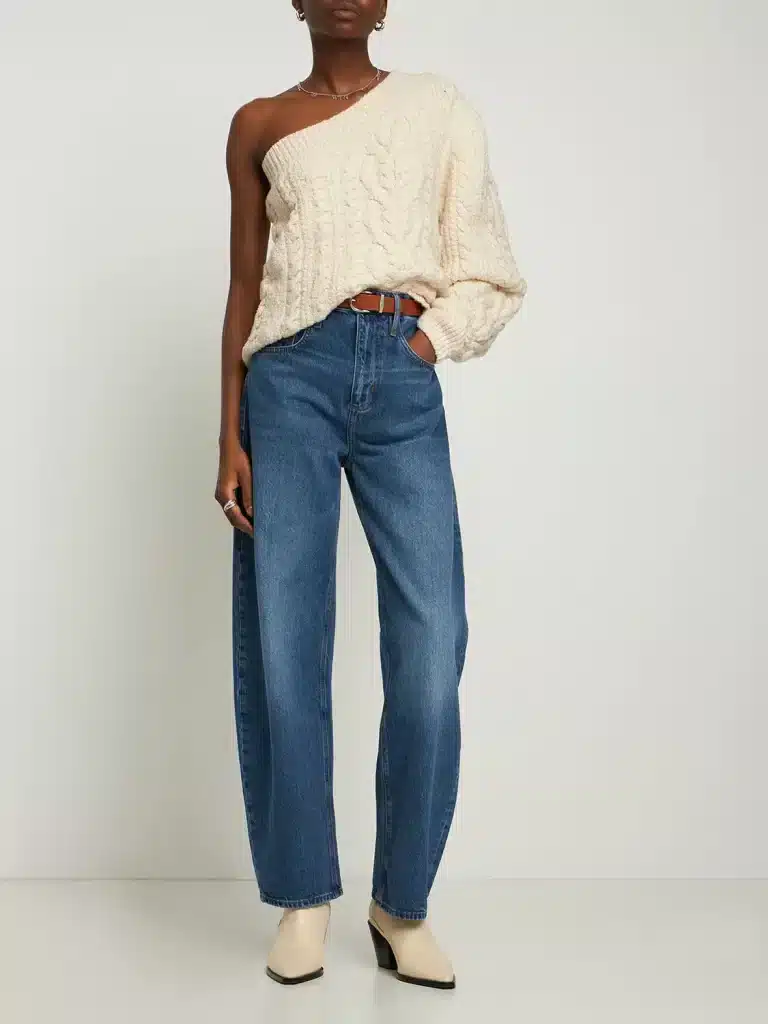 How to style barrel leg jeans?
Once you've found your perfect barrel jean, it's time to think about styling them up! Barrel leg jeans have quite an exaggerated silhouette, so it's important to balance them out by tucking in your top so your outfit doesn't appear too bulky at the bottom.
A tucked-in blouse or a stylish fitted T-shirt teamed with a chunky sweater or a blazer is a nice combo. Alternatively, you could go for an elongated silhouette and pair it with a crop top and belt to break up the look.
Add accessories like stylish thin belts (that won't overpower your outfit) and jewellery – dainty necklaces or hooped earrings are usually best – as these juxtapose against oversized garments wonderfully well!
When it comes down to footwear, keep things minimal by wearing classic sneakers or loafers for an effortless vibe.
Heeled sandals work really well if you want something dressier. Pointed-toe ankle boots and barely-there stilettos will give you that sophisticated edge.
Barrel leg jeans are incredibly versatile and can be dressed up or down to suit any occasion. Here are some tips on how to make the most of your new jeans!
Casual Look
For those casual days, pair your barrel jeans with a graphic tee or a band T-shirt. Layer on a lightweight jacket or cardigan and accessorize with a beanie, sunglasses, and sneakers.
Smart casual
When you need a casual outfit that's a bit smarter, you know, for those days when you need something to wear for drinks, or you know an art gallery opening or something… go for a blouse teamed with a blazer, and, of course, your barrel leg jeans. Add ankle boots and statement earrings to complete your look.
Night out
Out for the night with your girls? Or maybe going on a much-needed date night? Glam your barrel jeans with a sparkly or embellished top and pair with some heeled sandals. Add a statement necklace and a clutch bag.
Which body shapes suit barrel leg jeans best?
Generally speaking, barrel jeans are especially flattering for women with hourglass figures and pear-shaped bodies due to the way they hug the thighs and flare out at the bottom.
The flared legs create an illusion of balance between top and bottom, flattering wider hips and thighs.
However that doesn't mean barrel jeans don't suit other shapes, you just have to choose the right fit.
If you have an apple-shape or rectangle body shape (sometimes referred to as athletic or straight figures), aim for styles with a slightly higher waistline as this helps create the illusion of more curvaceous hips and balances out your figure.
Best barrel leg jeans
Barrel Jeans are on trend so there's lot of options on the market. From chic high waist cuts to loose relaxed fits here's some of the best barrel leg jeans…