Ladies, losing weight can make keeping a fab wardrobe tricky.
As the pounds come off, our body shape shifts and favorite pieces stop fitting. Going down a size? It's tempting to replace your whole closet.
But constantly buying new clothes is expensive and wasteful.
A capsule wardrobe is a small collection of versatile essentials that mix and match and is a budget-friendly solution for looking stylish during your weight loss journey.
By choosing transitional pieces in materials with stretch and flattering silhouettes, you can create endless outfit options that work at any size for your personal style. 
Here's everything you need to know to create a capsule wardrobe while losing weight!
1. Choose Flexible, Forgiving Fabrics
When assembling a transitional capsule wardrobe, fabric choice is crucial.
Look for stretchy, drapey materials with give that will conform to your shape as it changes.
Fabrics like ponte knits, soft jersey, and lightweight sweaters are ideal. They have plenty of stretch to accommodate up to 30 pound fluctuations!
Meanwhile, billowy silks, rayon, and viscose effortlessly drape over your frame.
Stiff, structured fabrics just won't be forgiving. Avoid thick denims, canvas, and brocades that cling to lumps and bumps.
Embrace soft, stretchy fabrics that move with your body.
Not only will stretch fabrics flatter your figure in flux, they'll keep you comfy through ups and downs. Who doesn't love an elastic waistband when working out more? Prioritize comfort and versatility.
2. Choose Silhouettes to Flatter and Accommodate
Certain silhouettes do wonders to accentuate your assets during weight loss. They balance proportions and disguise insecurities gracefully.
A-Line Skirts/Dresses: The fitted top and flared skirt streamline your shape. A-line styles work at many sizes!
Wrap Dresses: Cinching in the smallest part of your waist, a wrap dress is ultra flattering. Wrap a pretty scarf over your shoulders too.
Maxi Dresses/Skirts: The floor-grazing length is slimming while allowing room to shrink or expand.
Loose Button-Ups: A roomy button-up blouse easily layers over tanks and tees as you lose inches.
Drapey Cardigans: An oversized cardigan slims the arms and torso. Longer lengths give you coverage over leggings.
Wide-Leg Pants: The exaggerated width balances shrinking hips and thighs. Just cuff or hem as needed!
Leggings & Skinny Jeans: Stretch leggings and a pair of jeans fit great from start to finish. Add tunics, sweaters and long coats on top.
Build your capsule around silhouettes like these that conceal and flatter your transitioning figure gorgeously. They're must-haves for weight loss!
3. Stick to Neutral Basics
When it comes to weight loss, a neutral color palette is best. Earth tones, black, gray, navy and white are signature colors that effortlessly mix and match while appearing polished.
Stock up on these versatile neutrals:
Black – a wardrobe staple that slims and elongates
Gray – pair with brights or other neutrals for a timeless look
Navy – nautical and chic, goes with everything
White – lightens and brightens any outfit
Beige and tan – compliments all skin tones
You can also include softer neutrals like:
Light pink – feminine and flattering
Dusty lavender – pretty pop of color
Sea green – brings out eyes and brightens complexion
Chambray – denim tones polish casual looks
Having a neutral base means everything coordinates in your closet. Build outfits starting with neutrals, then add pops of color with:
Scarves – an inexpensive way to change up neutral outfits
Shoes – bright sneakers or heels
Handbags – carry a colorblocked bag
Jewelry – stack bracelets, add a neon necklace
Blazers – a patterned jacket transforms basics
Coats – make a statement with a colorful overcoat
With a neutral palette, you have flexibility to accessorize. Your options feel endless, not limiting. Getting dressed is simplified.
Aim to make neutrals 80% of your closet. Then incorporate color with versatile accessories that transition with you.
Pro Tip: If your neutrals feel boring, up the interest by mixing textures. Pair a chunky sweater with sleek trousers, or a silk cami with crisp denim. Playing with textures and silhouettes will make neutrals feel fresh.
Building a neutral base allows you to change up your look while keeping a cohesive, streamlined wardrobe. You'll maximize your mix and match options!
4. Layer for the In-Between Sizes
During weight fluctuations, creative layering is key! Mixing and matching essential layers helps disguise shape changes seamlessly.
Slimming Tank Layer: Add a smoothing tank under oversized tops to prevent billowing.
Long Cardigans & Kimonos: Lightweight layers slim your shape. Toss one over dresses, pants, even swimsuits!
Infinity Scarves: Drapey scarves add color, draw eyes up and hide loose necklines.
Patterned Blazers: A fun printed blazer dresses up outfits and cinches in your shape.
Cocoon Wraps: Oversized wraps in cozy knits effortlessly skim over lumps and bumps.
With smart layering pieces, no one will know what's underneath! You'll be covered and chic while your weight fluctuates.
5. Remember the Accessories
Transform basics with fun accessories for an updated look as you slim down.
Scarves & Wraps: Inexpensive way to change up outfits and disguiseloose necklines.
Cute Sneakers: Sneakers that match everything keep you comfy while staying active.
Patterned Handbags: A bright bag adds a pop of fun and holds your essentials.
Belts: Cinch dresses, cardigans and blazers in at your waist. Move belts down as you shrink!
Statement Necklaces: Draw the eye upwards and add visual interest to simple tops and dresses.
Cocktail Rings: An oversized statement ring hides loose fingers until your favorite jewelry fits again.
Have fun styling your capsule pieces with fresh accessories. It keeps your look exciting as your body evolves!
6. Remember Fit Comes First
No matter your size, fit should always come first. Be sure to try pieces on and buy only what suits your current shape. Leave room in stretchy pieces to accommodate loss.
Take your own measurements and try on clothing during weight fluctuations. Find waist-defining and curve-skimming silhouettes in materials with plenty of give.
Proper fit prevents straining buttons and fabric rippling.
Know your personal problem spots and disguise areas that need more coverage. An experienced tailor can also help adjust pieces so they hang perfectly on your transitioning figure.
During weight loss, prioritize fit and comfort.
Don't be afraid to size up and take in later. You'll look and feel best in pieces made for your body, no matter the number on the scale.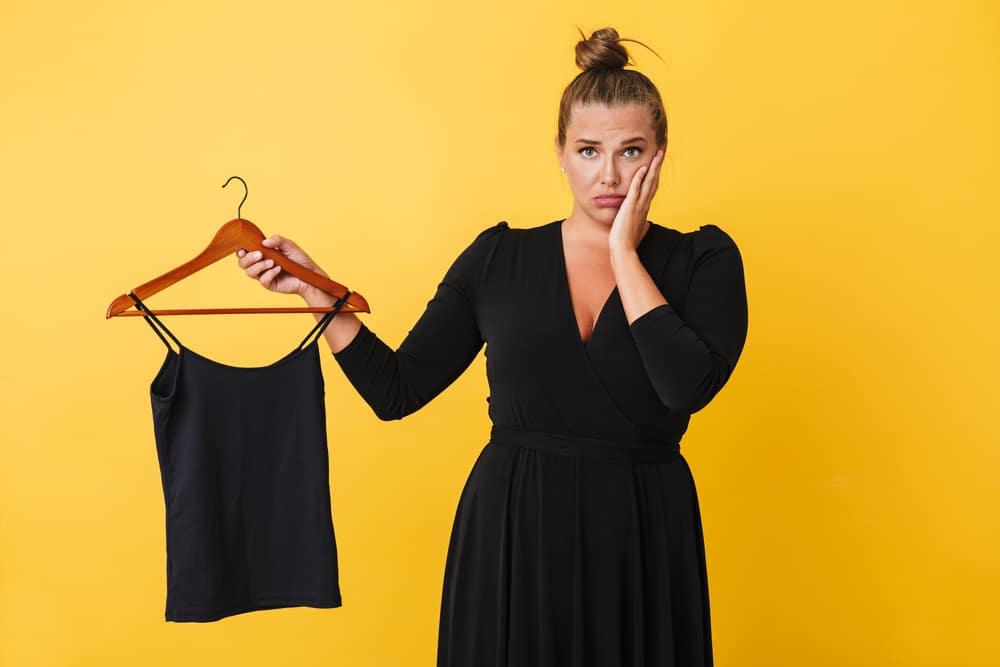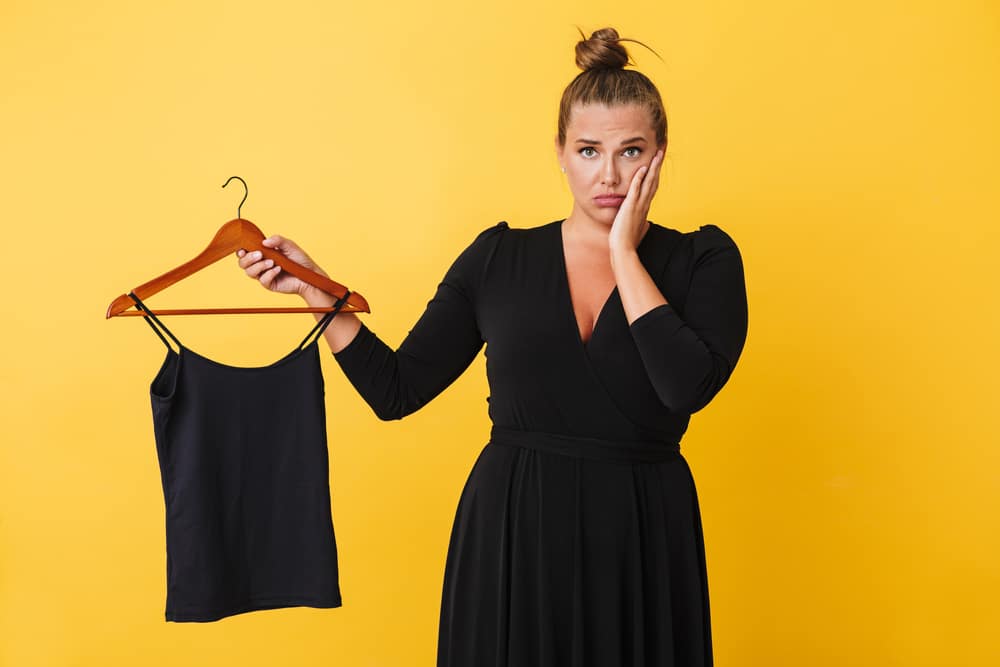 22 Basic pieces for your transitional capsule wardrobe
Go through your current wardrobe, and if you have any of the following items, be sure to keep them to make up your transitional wardrobe.
1. Surplice Wrap Blouse
A wrap-style blouse with a surplice neckline is ultra flattering. The criss-cross front cinches in at your slimmest point. Drape a colorful scarf over it to update the look for your spring capsule wardrobe.
2. V-Neck Tee
A flexible v-neck layers perfectly under other tops and dresses. Opt for soft cotton/jersey fabrics with lots of stretch. Stock up on multiples.
3. Sleeveless Shell
Great for heat and easy to layer, a sleeveless shell that skims your shape works under blazers, cardigans and more. Have both basic and printed.
4. Boatneck Top
The wide neckline provides coverage over your chest while showing collar bones and shoulders. Timeless and slimming.
5. Peasant Blouse
A flowy peasant blouse is relaxed yet feminine. Tuck it in or tie the hem for a defined waist as you shrink.
6. Tunic Sweater
An oversized tunic sweater provides endless layering potential. Choose lightweight knits that skim curves.
7. A-Line Dress
An A-line dress flatters all figures. The slimming top and flared skirt balance your shape as it evolves. A true capsule essential!
8. Faux Wrap Dress
Flaunt your waistline with a faux wrap dress in soft jersey knit. The V-neck and defined waist are ultra slimming.
9. Maxi Dress
A lightweight knit maxi dress keeps things breezy. The flowing skirt allows your weight to fluctuate.
10. Shirtdress
A relaxed button-down shirtdress works at many sizes. Cinch with a belt for a defined waist.
11. Ponte Pants
Pull-on ponte pants hold you in while remaining comfy. Look for a thick ponté fabric with ample stretch.
12. Skinny Jeans
Stretch denim skinny jeans show off slimming legs. Dark washes are universally flattering. Seek out soft fabrics.
13. A-Line Midi Skirt
An A-line midi skirt flatters your shape while allowing room to shrink or expand. Pair with cropped tops as you slim down.
14. Wide-Leg Trousers
The exaggerated width of wide-leg trousers balances shrinking hips and thighs. Hem as you lose inches.
15. Drapey Open Cardigan
An oversized, long open cardigan slims arms, torso and hips. Belt it to define your waist as it shrinks.
16. Long Kimono
A flowy kimono layer dresses up outfits while disguising lumps and bumps. Cinch with a skinny belt or ruched detail.
17. Cropped Blazer
A cropped blazer pulls looks together without adding bulk. Structured shoulders and nipped waist flatter as you slim.
18. Patterned Trench Coat
A lightweight trench coat keeps you warm while showcasing your shape. A fun pattern disguises lumps.
19. Statement Necklace
Draw the eye up and elongate your neck with a bold pendant or cluster of charms.
20. Patterned Scarf
An oversized scarf adds color, provides coverage and disguises loose necklines.
21. Crossbody Bag
A hands-free crossbody bag won't disrupt slimming silhouettes. Go for fun patterns and colors.
22. Block Heel Sandals
Walkable block heels dress up outfits while keeping you comfy. Neutrals go with everything.
More Capsule Wardrobe Essentials:
Well-Fitting Bra – Get professionally fitted for a bra in a natural fabric with no underwire. Upgrade as your size changes.
Slips – Nude and black slips prevent cling and add coverage under dresses and skirts.
Camisoles – Great for layering and coverage. Look for built-in shelf bras.
Black Leggings – A wardrobe staple. Opt for ankle length in opaque, thick fabrics.
Neutral Sneakers – Comfy sneakers in black or white match everything and keep you active.
Stay Stylish While Slimming Down
A transitional capsule wardrobe is the chic way to accommodate your shape shifts while losing weight.
Arm yourself with stretchy fabrics, flattering silhouettes and neutral basics to mix and match.
Creative layering and accessories will carry you through size fluctuations in style. Most importantly, focus on fit.
Buy only what flatters your current figure – not the size you hope to be.
With a wardrobe strategy tailored to weight loss, you can look fabulous and feel confident at any point in your journey.