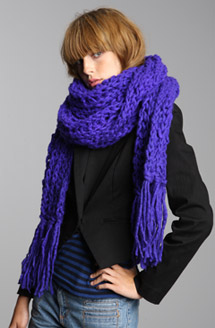 I have recently invested in an enormous scarf, you know like those ones you see in magazine shoots, which drown the model but nonetheless look incredibly cool. When I say enormous I actually mean gigantic, may take over the world enormous.
Mine is a bright lilac knitted creation from H&M, which is basically a giant loop. I tried an even longer one on but nearly suffocated myself in the process. Now here's the dilemma, how do you wear a giant scarf without
a) killing yourself
and
b) looking insane
There is something fantastically couture about oversized knitwear, it definitely makes you look skinnier and very on trend. But after you have mastered the art of strangulation avoidance you then need to work out what to wear with such a creation,
It is a statement piece that really would look best with little on, just a retro t-shirt and skinny trousers. But this avoids the purpose of having a huge scarf. Trying it with coats does not look great as it only makes the scarf grow even more, I have decided that it's probably a leather jacket or blazer job.
If you're thinking of dabbling in the freakishly large scarf craze then definitely head to H&M, they even have a giant knitted hat. Expect to see these scarves all over the high street, check out Urban Outfitters where the monster as pictured above is from. If you're still not convinced then why not try a Mongolian sheepskin scarf from Topshop, they're soft and stylish and Mongolian sheepskin dominated the AW08 catwalks.
Ok, so I've got my scarf on, I just need to find my head, help… anyone?
This post appeared first on MyFashionLife.com