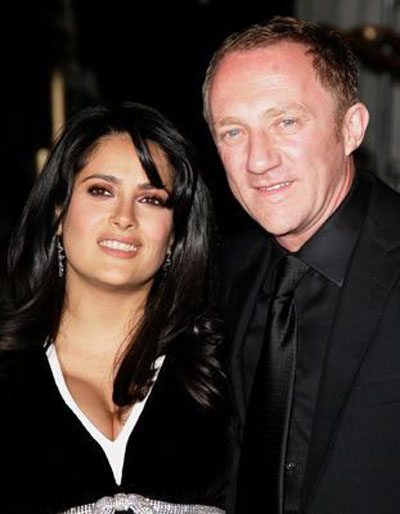 There once was a beautiful Hollywood movie star who fell in love with a fashion prince and on the most romantic day of the year, they wed in secret and lived happily ever after.
It is very much a real life fairy tale. On Valentine's Day actress Salma Hayek married her fiance Francois-Henri Pinault, who just so happens to be chairman of PPR. PPR is the major fashion house that rivals LVMH, it controls Gucci, Yves Saint Laurent, Balenciaga amongst many other high end luxury brands, is there a better career for a woman to marry into?
The announcement was made in the French magazine Le Point (it happens to be owned by Francois-Henri's family). They were married in the City Hall of the Sixth Arrondissement in Paris.
The couple have one child together named Valentine Paloma Pinault. They have had their ups and downs, announcing their engagement in March 2007, and then announcing the wedding was off in July 2008. But clearly everything was worked out and we couldn't be happier. Well, no actually we could be happier, we would be a lot happier if we could just have a peak at Salma in her wedding dress. Oh please just release one little picture; I do love a fairytale ending.
This post appeared first on MyFashionLife.com