Last Updated on 19th October 2013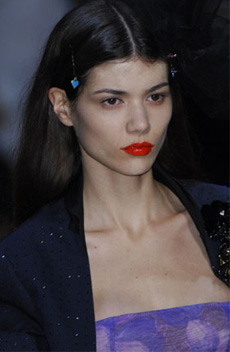 As a lifelong (well, so far) devotee to the endless joy that a good lipstick can bring, I am predictably enamoured with Spring's paintbox lips (see Louis Vuitton S/S for best examples). Favourite hue of the week has to be all members of the orange family – coral, tangerine, peach…I love you all.
In keeping with my current, accidental, obsession with orange (which already comprises of a butternut sqash swing coat, rusty copper eyeshadow and and babushka floral scarf), sunny coral lips are fresher than red, cooler than pink and infinately more wearable than blue.
Shades of orange have the immediate advantage of endless associations with summer and are therefore perfect for the eternal optimist in me as we are, literally, showered with the first days of British summer.
Yes, tangerine hues look undeniably great on sunkissed skin but unfortunately my face still bears more than a passing resemblance to Casper and so I am relying on the face brightening magic that orangey lipstick will bring…
[Image]