Last Updated on 7th October 2008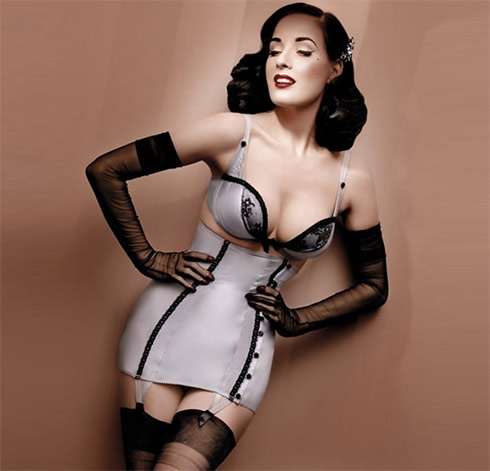 I've been biting my nails in excitement ever since Wonderbra, the lingerie brand responsible for giving many of us our first cleavages, announced that they were to team up with Dita Von Teese for their next range of lingerie. I mean, what a pairing! Two things haven't gone more perfectly together since Viktor and Rolf, Dolce and Gabbana, strawberries and cream…
So the wait is over and I have to say the collection lives up to what surely must have been massively high expectations from the burlesque star's hoards of style admirers, myself included.
The line uses a colour palette of duck egg silvers and vintage peach accentuated by black details including panels of lace, velvet, buttons, sequins and piping along underwire and overwire. Yes overwire, as was used on underwear in the forties and fifties. Come on, you didn't think you would get a collection from Dita without some throwback seamstresstry, did you?
The star of this striptease show for me though has to be the peach and black Satine Teese underwire bra and matching briefs. Its simple lines and minimal details, with just a small section of contrasting lace and two unfussy buttons, mean that it looks authentically vintage but also wearably modern.
Sadly however not all the pieces are as flawless as the lovely Ms Von Teese. The weak link here is the black Multi Teese bra and matching briefs. Both feature a quick release magnetic fastening so that those so inclined can practice their strip tease at home. But with its inflated black mesh cups emblazoned with sequin bows it just looks stripper cheap.
Nonetheless hats off to Dita and Wonderbra for such a brilliant marketing masterstroke. The collection is a limited edition so best be snappy!