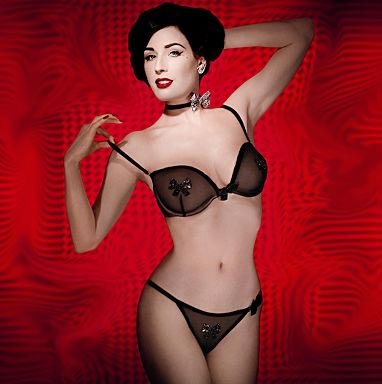 They say with the recession in full swing many of us ladies are rushing out to buy lingerie to make ourselves feel sexy and "improve our mood. If that's the case, then Dita Von Teese is definitely on to a winner with her latest collection for Wonderbra – Party Edition Wonderbra by Dita Von Teese
The line oozes sexy appeal and I was lucky enough to receive the black sequin detail multi-plunge bra and thong (pictured above) for review. If you read my thoughts on the ultimate strapless bra, you'll know I'm already a fan of Wonderbra so I was thrilled to try out Dita's line.
Firstly, let me just say I felt like a goddess when I tried on the lingerie set. Design wise, it's gorgeous. The bra fastens magnetically in the front and the magnet is hidden by a velvet bow in the centre. Like the thong, it's embellished with sequinned bows which I adored. In terms of comfort, the bra fits beautifully and gives a nice shape. I haven't got much to say about the thong, as a thong is just a thong…but it really is super cute.
The set is best worn on a night out especially when you're in the mood to feel sexy. The bra is £34 and the thongs are £14.
Now for the bad news. The Party Edition collection is available for a limited time only, so it won't be available to purchase for Valentines, which is a shame. My advice would be to buy now and save for later! Check out the full range online at Debenhams. There is something for everyone.
Black sequinned detail bra and thong, £44 available at Debenhams.