Last Updated on 19th October 2013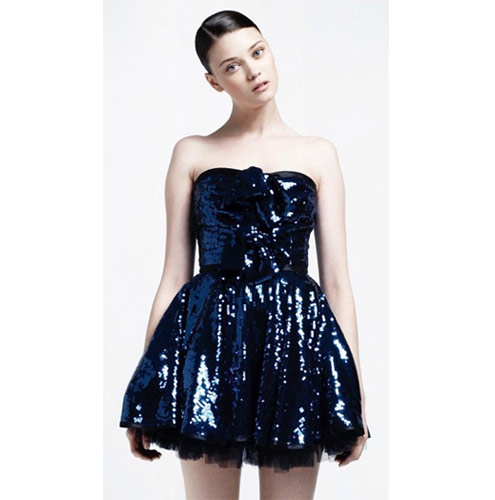 Some dresses are made to be fallen in love with. This Topshop number is one of them. I'm smitten. Covered in bows, navy blue sequins and with a black tulle underskirt to give the skirt extra volume, it really is the stuff of childhood party dress fantasies.
Although, judging from Topshop's new Wonderland range, featuring big skirts, frills and circus prints, a healthy percentage of us still haven't grown out of those.
Anyone who has been browsing red carpet snaps recently may have noticed the dress is extremely similar to a piece by previous Topshop collaborator Preen, and recently sported by fashion pioneer Chloë Sevigny at the Emmy Awards.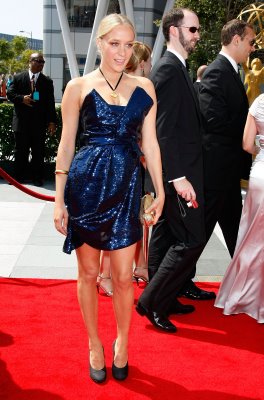 The dress certainly cuts it in the style stakes but then the high street giant has faced much animosity and criticism in the past for producing pieces a little too similar to those sported on the catwalk. With most of us in the grip of a tightening economy though, I'm sure they'll be many girls who are quite thankful.
That aside, the real beauty of this dress is its versatility. Add some metallic heels and a simple matching clutch and necklace, and its glam and sophisticated enough to see you through the winter's formal parties.
But, if you want to be a bit more playful, go for a trashier look and add some punky patent black shoes, knee high socks, statement jewellery and masculine accessories.
As for me, I'd wear it with big wellies, a warm fur trimmed coat and accessorized with a white horse and endless heather filled fields. Sorry, I seem to have drifted into that fantasy where I get to live in a high fashion photo shoot again!