Last Updated on 13th October 2008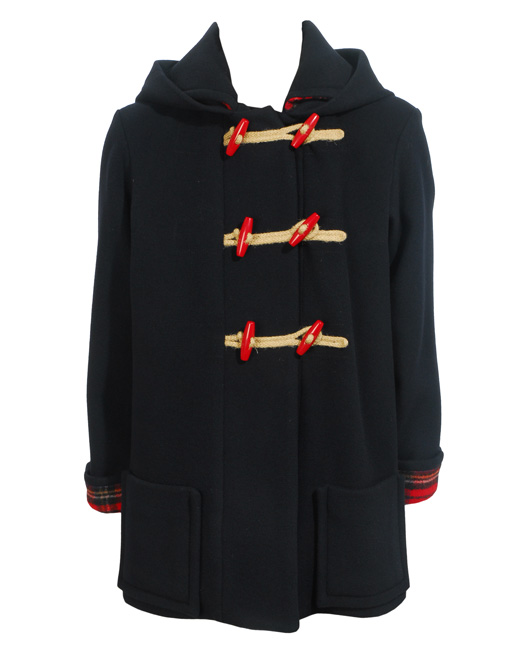 Every so often there is a trend that takes you straight back to your childhood. It gives you that warm fuzzy sense of nostalgia, whether its flat patent pumps with bows, mittens or wellington boots, these all put a leap in your step. Well mine is the duffle coat, especially when paired with wellies.
The duffle coat reminds me of jumping in puddles and watching Paddington Bear, now I wouldn't normally take tips from a cartoon but on this occasion I think it's perfectly fine. And it would appear that it's not just me that thinks so.
Stella McCartney, Sara Berman, See by Chloe and Sonia by Sonia Rykiel are just some of the designers who have recreated the duffle coat. I must say that the Sonia by Sonia Rykiel is my favourite, navy with red tartan cuffs, Paddington would approve.
But of course the high street has got in on the act, Topshop have a very cute duck egg blue, one not to mention another million different colour ways and styles. French Connection have a modern take on the duffle with their Knickie jacket in a fab mustard yellow. Oasis have easy to wear versions and M&S have an adorable check cropped duffle.
To toughen up your duffle pair with some wetlook leggings or leather trousers and super high heels. To keep it true to it's cuteness, wear your duffle with a short trapeze shape dress opaque tights and shoe boots or patent pumps. Oh but if you really want to recreate your childhood team with some wellington boots, check out Office for a wide range.
I'm thinking Sonia by Sonia Rykiel coat with merry go round wellies, or is that abit OTT? Oh who cares, better pick up some marmalade whilst I'm at it.