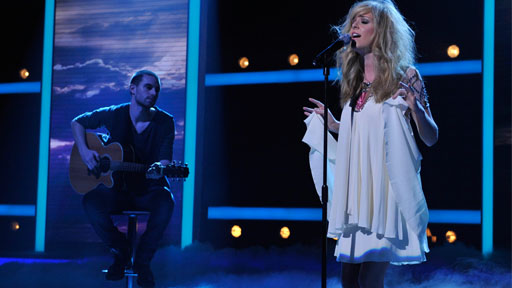 I wouldn't usually advocate taking style tips from 16 year old boys or Ricky Gervais look-a-likes but this time I'm making an exception.
It can't have escaped your notice that the all singing, all dancing juggernaut of a talent show that is the X-Factor is back. ITV has taken a break from creating segments featuring the contestant's tragic life stories just long enough to add a fashion section to the show's official website.
The mini site includes tips from show's stylist Faye Sawyer on how to embellish high street clothes as she does for the show, make up and hair styling tips, style influences and clips of the contestants explaining their individual style. All very illuminating. A video of nauseating Bristolian girl band, "Girlband" , gosh those girls are clever , discussing their favourite item of clothing is a particular low point.
But there is a useful gallery detailing where all the outfits used in each show, from pants to shoes has come from. Although quite why you would want to know where a contestants knickers has come from when you cant even see them is beyond me. In fact, why couldn't they supply their own? Divas.
Whilst the clothes are mostly high street, there is a spattering of designer pieces by McQueen, Temperley, Burberry and Dolce & Gabbana. If you've been watching you'll know that some of the outfits are decidedly dodgy. Lucky Bolton warbler Laura got a wonderful D&G dress last week. Unfortunately it looked like it was two sizes too small.
One to certainly keep an eye on however, and the main reason that the fashion on the X-Factor site worth a look is contestant Diana. In week one she wore a stunning floaty white Temperley number that was half angel, half flapper. Week two saw her step out in a dramatic lace necked Zara dress that I'm pretty sure is destined to become a top seller. The girl has style.