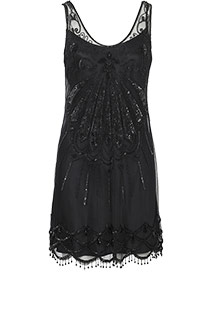 So the party dresses are hitting the shops and it's time too start thinking about your investment dress for the coming social season. One style that dominated the catwalks and now the high street, is the 1920s inspired flapper dress.
I have a personal love for all things dropped waist and if there's a feather somewhere then all the better. The Flapper dress symbolised the emancipation of women during the 20s, short skirts that flirted around their knees, all very risque. And whilst it may seem a tame style today, it is one of the most elegant and understatedly sexy styles around.
Oasis currently has two gorgeous styles available in their Vintage range, one a stunning berry colour and the other a chic black, pictured, both are encrusted with beads and are utterly luxurious.
French Connection has a fun tassel take on the traditional flapper dress. Warehouse has the most incredible version around; a full feather skirt with a black bodice covered in sequins and beads and a black silk bow, heavenly!
If you want the real thing then it's worth routing around your local vintage shop, Beyond Retro often carry a range of delicate, original eveningwear.
The really great thing about the flapper dress is it is so versatile. Worn bare legged or with tights it looks sophisticated. It's particularly fantastic with ankle boots or super high towering heels; I always quite like t-bar shoes for a real vintage look. You don't need much jewellery maybe a bracelet, earrings or a feathered headband and an art deco style clutch bag. The other great thing is because of the style of cut you can get away with dressing it down, try a polo neck underneath, thick black tights and an oversized cardigan over the top, for a quirky dressed up down look. All together now girls 1,2,3: Jazz Hands!!