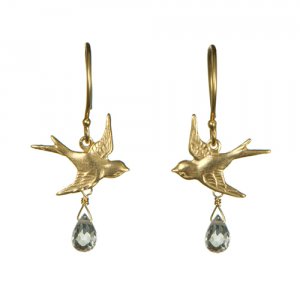 Ever wanted to wear twigs for bracelets or to wear a cluster of autumn leaves around your neck? Not particularly? The thought hadn't crossed my mind either until I saw the work of jewellery designer Catherine Weitzman.
It takes a little bit of romanticism about a piece of fine jewellery to make me part with my hard earned cash. So a necklace of 18 ct gold sea shell skeletons crafted by hand in Hawaii is just about going to do it.
In fact all of Weitzman's work is influenced by nature, particularly the sea. She was born and raised in New York, but then extensively travelled the world and has translated her memories of her travels into her collections.
Her latest work for example is all about the sea, from lockets with transparent chambers in which star fish are encased, to sprigs of seaweed and bracelets in the shape of coral skeletons.
All the pieces are still handcrafted and boy doesn't it show. When you look at them they appear to have a strange and beautiful quality to them that you can't quite put your finger on, until you realise we're just not used to seeing that kind of bespoke craftsmanship any more.
For all this you'd expect to pay top whack, but with prices starting from the £50.00 mark, it is surprisingly affordable.
Visit catherineweitzman.com