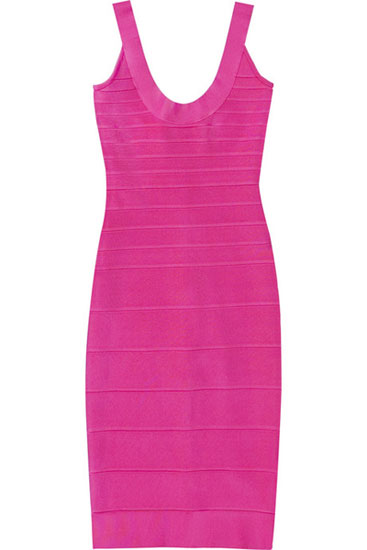 Some may say it is the era fashion forgot, a decade of designs that are best left in the past. But clearly designers and the high street weren't listening and we are now facing a 1980's style revolution.
But what should you expect? How about…body-con dresses and skirts, batwings, double skirted dresses, shoulder pads, high top trainers, rara skirts, jerseys, baggy jeans, crop tops and neon brights, oh and not forgetting taffeta (hopefully that one will pass us by).
So we should all now be familiar with the body-con side of things, thanks to Max Azria's revitalization of body con supremo Herve Leger, and with the high street catching on quick. The easiest way to master the body-con look without looking like a street-walker, is playing with proportions.
a) Try teaming a body-con mini with a graphic t-shirt and ankle boots.
b) Don't wear anything low cut or too tight and avoid super high pointy stilettos.
c) Keep it slick, your shoes should be simple and pair with an oversized clutch bag.
For a great range of body-con check out Topshop and Reiss who have worked their magic on those lycra bandages.
Double-skirted mini dresses, otherwise known as peplum dresses, were all the rage back in the 80s and made an appearance at the beginning of this season, but they aren't going to be disappearing in a hurry. Oasis, Topshop, and Miss Selfridge are all pushing the look in a variety of fabrics and colours. Miss Selfridge have a great denim version, pair with a polo neck and tights for a cool day time look and then pull on some super high caged heels for a sexy night out.
The baggy jeans look great with high heels Pepe's cropped ones are sure to fly off the shelves. With high heels they'll look sexy and chic. As for shoulder pads, I am not sure if I can condone them, but there is a rather gorgeous check shoulder padded jacket at Topshop, that I know would look fab teamed with skinny jeans or a over a sleek cocktail dress.
If you really want to get in on the 80s look then it's best to go vintage, head to your nearest charity or vintage shop. But don't go over board, you need to keep your look fresh and modern, so step away from too many metallic's or frilly fussy nonsense. Your style muse is Agyness Deyn not Dynasty!
Pictured: Herve Leger Tank bandage dress, $780, available at Net-a-Porter