Last Updated on 27th January 2009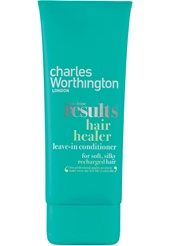 I usually shy away from the Charles Worthington super-brand, having come to the admittedly unsubstantiated conclusion that I'm probably paying for the name rather than the product. After road-testing this leave-in-conditioner, I am now officially a convert.
Claiming to provide vital conditioning throughout the day and restore a glossy shine I put this product to ultimate test; applying it after a night of experimental back-combing which resulted in a matted and tangled mess.
Application: Easy. After shampooing I worked the conditioner through my damp hair and combed through. Despite my hair being long, thick and particularly tangled, the product didn't take long to work its magic and my hair became easy to comb in minutes. I was also pleasantly surprised to find that it protected against heat damage so I could blow dry and straighten my hair guilt free.
Results: Shiny, glossy and soft; I couldn't really ask for much more, my hair smelt fresh and clean too and the results lasted.
So I have learned my beauty-lesson for the day and can assure you that you are not just paying for Mr Charles Worthington's signature this time, this product is worth every penny.
£5.49 available Charles Worthington