Last Updated on 30th January 2009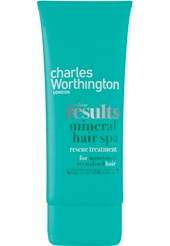 This particular treatment comes from super-brand Charles Worthington's 'intensive' range which is specifically designed for hair restoration and deep nourishment. As a 'rescue treatment' it is designed to re-vitalise damaged hair, (which lets face it, after the arctic blasts we've been experiencing probably applies to most of us).
Now I will be the first to admit that I'm usually very impatient with products you have to 'leave in' before rinsing however this particular product offers two choices; either 3-4 mins, or for an 'indulgent treat' 10 mins.
Like most of Charles Worthington's range, the mineral hair spa rescue treatment smelled pleasant. It absorbed well into the hair but took a long time to rinse out , whether or not that is positive thing I can't decide.
After 10 mins before rinsing, my hair felt soft, glossy and noticeably less dry when styled however when only left for 3 mins these results were much less noticeable so this is definitely not the product to use if you're in a hurry (or if you are impatient like me)!
All in all, it's definitely worth a try when you've got a little time to spoil yourself.
£5.49 available at Charles Worthington